Kevin Quantum is a well-known magician around Edinburgh, and now it seems a little further afield too. There have been several occasions on which I have witnessed his sleight of hand and skill when he has taken my breath away! 
Ahead of the Edinburgh International Magic Festival I sat down for a quick chat with the Artistic Director to find out what this year's programme has in store. Originally from Fife Kevin now lives in Edinburgh and mixes his magic up with some science.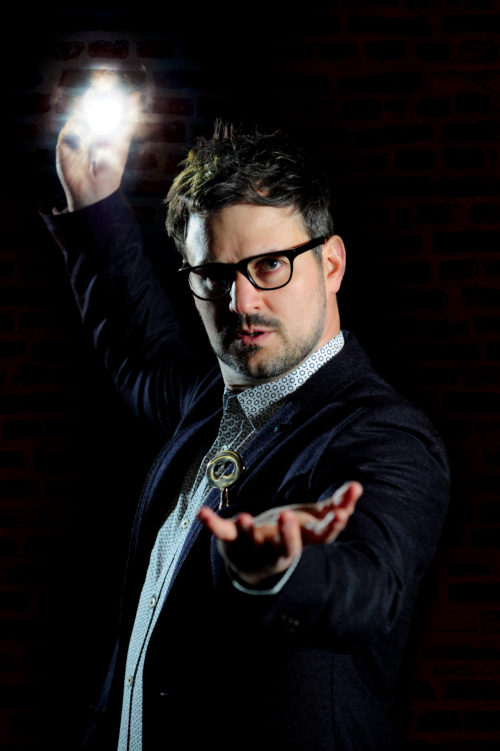 Kevin how did you first learn to be a magician?
Reality TV. I was midway through my Physics PhD when I had the opportunity to go on a C4 show called "Faking It'.
The idea was to learn a new skill in four weeks good enough to fool a panel of expert judges. I had to learn to do magic.
What followed was four weeks in London learning from the best British magicians, a week in Vegas, including a Masterclass with Penn and Teller, before convincing Paul Daniels that I was an actual magician in the final test.
And that was how it began. The rest has been working with other amazing performers, mentors and on the job training. It's been a ball.
What is the best trick you can do now? (no spoilers please!) 
Oh! The best one is always the one you're currently working on.
Right now for my new show Vanishing Point it's all about the power of invisible forces. I'm using gravity to propel a massive scimitar blade across the stage for an escape illusion where I literally put my life in the hands of gravity.
I'm also fascinated and horrified by the recent abuse of big data. This will be a scourge on society for the coming decades. I want to frighten my audience in a safe place (theatre) by demonstrating how they could do something they'd never consider with subtle manipulation.
This all sounds so intriguing! What other jobs have you had since leaving school/college?
I worked in a restaurant, for a tech company, as a maths/physics tutor, as a science communicator and as a web designer. Wide variety of jobs!
What has your year been like so far? (I know you were in Australia – did they like you there?!)
I had an amazing start to the year. I left in January for Australia to work on the Fringe circuit.
Adelaide Fringe is second only to Edinburgh with over 1000 shows daily over a five week period. They present awards to what they consider the best show in each genre. This year I was delighted to take home BEST MAGIC for my show Kevin Quantum : Anti-Gravity. Prizes are only awarded to one show per Fringe category so this was a big deal – and a Scottish first. I had sellout shows, five star reviews and lots of fun. I love Australia. An amazing country.
And what are going to be the best bits of this year's Edinburgh International Magic Festival? 
For me, I can't wait for The MagicFest Gala. The closing act is always special, but this year we have probably the best illusion act in the world. The production is so high, verging on cirque standards and the illusions and simply mind-blowing.
It's the biggest act we've ever brought to Scotland, a cast of ten and two trucks worth of kit. All to make 20 minutes of magic. You should definitely come and see this!
Wizard World Gathering will also be ace. It's a Party created by Harry Potter fans who want to do more than just read and watch.
We have a beautifully dressed Grand Hall, with winding passages, hidden theatres, live shows, potions class, levitation class, time travel class… and bars spread over four levels from lower basement to first floor (at last check, the staircases have been known to move). I'm delivering the Levitations class with illusions I learned for Anti-Gravity. I can't wait.
Anything new on the programme?
Always. 🙂 Gala format is similar but the lineup is always different. Wizard World Gathering above is a completely new concept. The solo shows are all new for the 2018 festival.
Phew! It is all too exciting, but you don't have long to wait. The Edinburgh International Magic Festival takes place in the capital from 11-19 May 2018. The full programme is
here 
and is reproduced for you to download below.