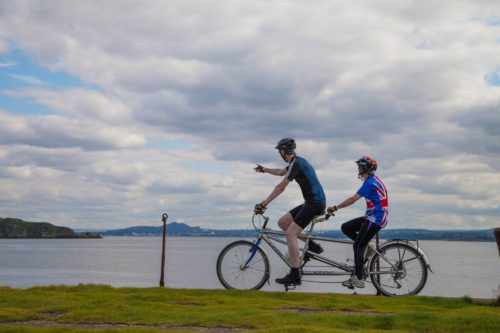 Couple to cycle from Edinburgh to Budapest to raise funds for dementia charity
Dalgety Bay couple Nik Olliver who is a Health and Safety Lecturer at Edinburgh College and Richard Newton who is a freelance photographer are getting on their tandem to cycle from Edinburgh to Budapest this summer.
They are raising funds for Alzheimer's Research UK. Their schedule will include cycling from Edinburgh to Newcastle where they will catch a ferry to Amsterdam. Heading through the Netherlands and Germany they will then follow the Danube all the way to Budapest hoping to get to the end of their 2000 km journey by 31 July.
The timetable means cycling around 100 kilometres a day.
Nik said : "It will be tough but we're both really looking forward to the challenge. We will be camping on route so we can be flexible, but July 31 is our target and we hope to reach it and make as much money for Alzheimer's Research UK as possible."
Nik, a Health and Safety lecturer at Edinburgh College, and freelance photographer Richard intend to keep social media updated with images and videos throughout their cycle. Follow their journey here
So far, Nik and Richard have raised £815. If you'd like to make a donation, please visit Nik and Rich's MyDonate page here.
Kyle Lockhart, regional fundraising officer – Scotland at Alzheimer's Research UK, said: "We're so grateful to Nik and Rich for supporting Alzheimer's Research UK. Dementia affects a huge proportion of the population – over 70,000 people in Scotland alone living with dementia and one in three people over 65 in the UK will die with some form of the condition. Fantastic fundraising efforts like this will help us to defeat dementia sooner."