There are two information sessions this week all about the City Centre West to East Cycle Link and street design project. (CCWEL)
The first is today 1pm – 7pm at 6 Murrayfield Place (formerly Bloemen Ecke) and on Thursday 19 April 1pm – 7pm at the Apex Haymarket Hotel (Athens Suite) Haymarket Terrace.
The sessions are intended to allow members of the public the chance of speaking with project leaders and ask any questions about the 4km cycle route which will pass through the city centre.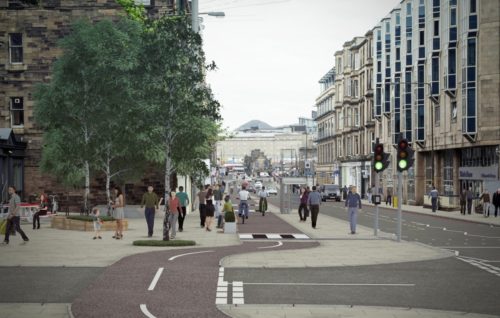 The project was approved in December 2016 and will provide a largely protected cycle route through the city centre from QuietRoutes which are already in place in north and west Edinburgh and around Leith Walk.
The council also proposes to make changes to the streetscape or public realm along the routes to encourage active travel and improve air quality as a result.
Transport and Environment Convener, Councillor Lesley Macinnes, said: "I would encourage anyone interested to come along to one of these events, where our team will be on hand with the latest information on this major scheme.
"By vastly improving cycle and walking infrastructure through the city centre, we hope to see a real behaviour shift in terms of transport choices, creating a better environment for all those who live and visit here.
"Those who choose active travel have a great many good reasons to do so, and in turn are benefitting their neighbours by helping to improve air quality, reduce congestion and enhance the streetscape for everyone."
As well as the information sessions a council consultation begins on 20 April on the traffic changes which are required. This will run until 18 May online with more information from the end of the week here.
For more information or to sign up to the CCWEL mailing list please contact Rurigdh McMeddes on rurigdh.mcmeddes@edinburgh.gov.uk.