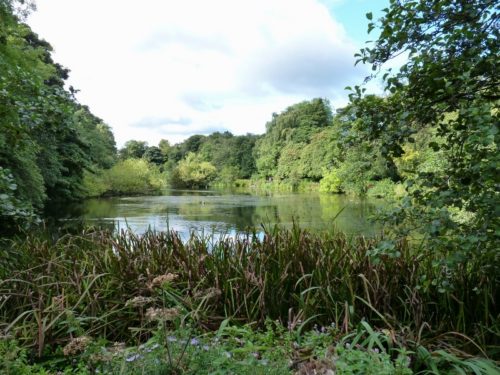 Forestry and fishing, two of Scotland's iconic industries, both made the news this week.  All remaining controls over forestry were formally devolved to Scotland but we appear to have lost control over fishing.
Let's start with forestry.  The Scottish Government wants to expand Scotland's tree cover from the current 17 per cent to 25 per cent by 2050.  This it says will be good for the environment, good for the rural economy, good for tourism and good for the general health of the nation.  To this end, it pushed the Forestry and Land Management Bill through parliament which "grabs" all remaining powers over forestry from the UK Government and places them firmly in the hands of MSPs at Holyrood.
The SNP went a little too far for a minority government, however, in trying to grab the hallowed Forestry Commission and turn it into a government department.  It lost that part of the Bill by two votes.  So the Commission, which dates back to the First World War, stays as an independent public agency charged with developing Scotland's forests for commercial and environmental and social uses.
Scotland's sea fishing industry is small compared to forestry – employing just 13,000 people, compared to forestry's 25,000 – but it has much more political and emotional gravity. We are a coastal nation, if not an island nation, and our picturesque fishing villages are dear to our hearts.  So when the latest Brexit deal involves remaining in the European Common Fisheries Policy until the end of 2020, not the promised spring of 2019, Scotland's fishermen – and their politicians –  become extremely angry.
Once more, they said, Scotland's fishing communities were being sacrificed in UK negotiations with Europe.  The 17 Scottish Conservative MPs were particularly embarrassed by the deal, since only last week their leader Ruth Davidson had been promising fishermen they would get back control of their fishing grounds the day after Britain leaves the European Union, on 29th March 2019.  That's turned out to be an April Fool's joke, just like much of the Brexit negotiations.
Another very foolish part of modern life has come apart this week.  Our senior female politicians have given us an insight into the hate-messages they receive day-in-and-day out on Twitter.  Nicola Sturgeon, Ruth Davidson and Kezia Dugdale have revealed some of the physical threats and sexist insults they are regularly subjected to on so-called "social media."   They've joined forces to back the "Toxic Twitter" campaign to persuade the social media companies to weed out abusive messages.  Bar-room talk by drunk men – and I suppose a few women – is bad enough but for it to be broadcast in permanent written form is surely the modern equivalent of burning witches.
Scottish political leaders receive horrific violent and abusive tweets every day. Watch @NicolaSturgeon, @RuthDavidsonMSP & @KezDugdale speak about the abuse they receive on #ToxicTwitterhttps://t.co/DdBbR9djephttps://t.co/zAbUjZJoLB pic.twitter.com/J9lAGd1aMf

— Amnesty Scotland (@AmnestyScotland) March 21, 2018
A burning night club brought the centre of Glasgow to a standstill for most of Thursday.  The Victoria Club in Sauchiehall Street was badly damaged but no one was hurt.  It took over a hundred firefighters to bring the flames and huge palls of smoke under control.  Luckily they were able to save the Pavilion Theatre next door, though it's still being assessed for smoke damage. A performance by Scottish Opera at the nearby Theatre Royal had to be cancelled and damping down is expected to go on for several days.
Another theatre saved this week was the Scottish Youth Theatre. Earlier this month it lost its grant from the government arts agency Creative Scotland. There was such an outcry that the government had to step in directly and award the theatre an emergency grant of £150,000. It could hardly be allowed to close in this "Year of Young People". But it is being urged to build partnerships with other organisations and change the way it operates in the future.
The people of Ulva were given an unusual present this week  – their own island. The 2,000 acre estate, off the coast of Mull, is the latest to become community owned after it won a £4.4m grant from the government's Community Land Fund.  There are only six permanent residents on Ulva  – including the current owner – and the estate has been making a substantial loss each year. But the leaders of the community buyout have plans to turn the island's economy around, based on seafood and tourism, and increase the population to 50.  As the islanders of Eigg and Gigha have shown in the recent past, it can be done.
Finally, folk from the Shetland Islands say they are tired of being misplaced on the usual maps of Scotland.  They object to their islands being put in a box somewhere off the Moray Firth.  It may be convenient for map-makers who want Scotland to fit onto an A4 page but the islanders say it's led to a lot of misunderstanding about exactly where the Shetland Islands are.   Maybe they want to make the point too that they are a long way from the rest of Scotland and perhaps they are the ones who need to mount a power grab and take back control of their own affairs.