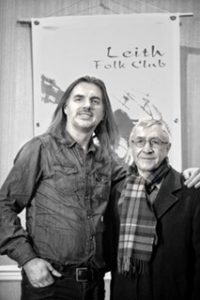 It seems like only yesterday that an Edinburgh sporting icon – indeed a Scotland sporting icon – was making headlines around the world. Now Ken Buchanan, one-time undisputed boxing world champion in the lightweight division, is making the news again.
Now 72 and living in Leith, Buchanan recently appeared as guest of honour at the Leith Folk Club to hear a song composed in his honour by Leith based musician Kevin Gore.
Ken Buchanan – Edinburgh Man is a song written in tribute to the great man and when he heard it the boxing world champ, nicknamed the Fighting Carpenter, was clearly moved.
"I think the song's brilliant" he said as he sat amongst the appreciative audience at Edinburgh's Victoria Park House Hotel, which Buchanan used to own.
"Kevin's a lovely guy and I was very emotional when I first heard the song played. I wanted to greet! It's such a beautiful song.
"He sat down beside me one night at the Central Bar in Leith. I didn't know who he was, but I was very impressed with his knowledge of my career. He had clearly done some intensive research. He was talking about things that happened to me and I was thinking 'how did he know that?'
"I had no idea he was writing a song until people started coming up to me and saying, 'just heard your song, Kenny' and I'm thinking 'what song are they talking about?'"
The song has been written in support of a campaign to erect a statute of one of Scotland's greatest ever fighters in Leith. The Ken Buchanan MBE Foundation, has raised almost £17,000 as it looks to reach its £50,000 target and Buchanan himself takes great pride at the campaign in his honour.
"It's a brilliant idea" he said, "and if it goes ahead I'd like it to be situated at the foot of Leith Walk.
"I started my boxing career near there with Leith Victoria Boxing Club when I was eight years old weighing just over three stone. I was club champion in that weight division and, 64 years later, I've still got the newspaper cutting."
Buchanan was WBA world champion in 1970, acquiring the vacant WBC title in 1971 to become the undisputed world champion.
Ken Buchanan – Edinburgh Man by Kevin Gore is available for download on bandcamp.com and the CD can be purchased from Gladstone's Bar, just off Great Junction Street in Leith or by contacting The Ken Buchanan MBE Foundation via Facebook
All proceeds from the song will be donated to the statue campaign.