A reminder that this year's HippFest begins on Wednesday and if you haven't got your tickets you had better get your skates on. The full programme is shown below.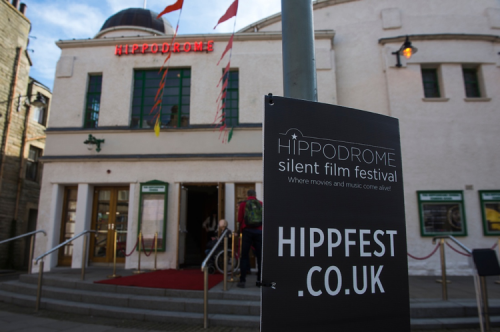 This year, amongst the live music, the Festival is trialling spoken word and song as a response to silent film. On Thursday 22 March, HippFest will be screening a selection of short films by Isobel Wylie Hutchison preserved by the National Library of Scotland's Moving Image Archive in a programme including song settings of Hutchison's poetry and spoken word, from award-winning writer, actor and singer Gerda Stevenson. This event Call of the North, will be in two parts with part two including music written and performed live by Japanese composer Atzi Muramatsu whose composition has also been inspired by the life and work of this intrepid explorer.
Festival Director Alison Strauss said: "We are thrilled to have such a fantastic line-up of musicians and performers coming to the Festival this year, we have returning HippFest favourites – Neil Brand, Stephen Horne, Jane Gardner, John Sweeney and Mike Nolan, but also a number of artists whom we are welcoming for the first time including Gerda Stevenson, Rob MacNeacail, Atzi Muramatsu, Graeme Stephen, and Alois Kott from Germany."
The Festival's international programme takes in work from China, Germany, India and the USA. Saturday will see the European Premiere of Striving (Fen Dou) – a new restoration from the China Film Archive, and The Treasure (Der Schatz) the first film directed by Austrian director G.W. Pabst with a new score commissioned by HippFest from acclaimed German musician Alois Kott.
At Bo'ness & Kinneil Railway there will be an outdoor screening of The Great K&A Train Robbery starring the 'king of cowboys' Tom Mix and his trusty steed Tony the Wonderhorse who performed all his own stunts including galloping along the roof of moving trains.
In Scotland's Year of Young People, the Festival will premiere new compositions by local school pupils in the Falkirk area, performed for a selection of silents from the National Library of Scotland's Moving Image Archive. This event New Found Sound, is part of HippFest's wider youth engagement programme which includes primary school workshops delivered by Into Film exploring Victorian camera tricks, workshops with local youth clubs and a short silent film produced by Falkirk's Champions Board (young people who have been, or are currently in care) as part of Cashback for Creativity. The short film will be premiered with live improvised musical accompaniment at the New Found Sound event.
Jennifer Armitage, Screen Officer at Creative Scotland said: "HippFest offers audiences from Scotland and beyond the opportunity to celebrate silent film in the unique setting of the Bo'ness Hippodrome. Through the imagination and dedication of the staff and volunteers, this festival has grown to be hugely popular and widely respected. The festival continues to increase its engagement with the local community, as well as international enthusiasts, and makes silent film accessible and engaging for all. This year's programme combines world-class live music, insightful speakers, and workshops, to enrich the understanding and enjoyment of silent film. Fittingly in the Year of Young People, there are further fantastic opportunities for young people through HippFest's youth engagement programme."
Further highlights over the weekend include a horror-double bill on Saturday night with the great American actor Lon Chaney as a criminal mastermind bent on sadistic revenge in The Penalty. This film is accompanied by the premiere of a new score commissioned by HippFest and performed by Scottish jazz guitarist and composer Graeme Stephen and cellist Pete Harvey. Thanks to support from Film Hub Scotland, a member of the BFI Film Audience Network, this new commission will go on tour in Scotland in 2018.  The late-night drama continues with the screening of a long-lost scare flick Seven Footprints to Satan a riotous and at times salacious movie directed by Benjamin Christensen also known for Haxan (1922).
HippFest is organised by Falkirk Community Trust with key funding from Falkirk Council, HippFest is supported by BFI Audience Fund, using money from the National Lottery, through Creative Scotland's Open Project Fund to engage more audiences across the UK with silent cinema.
More details here www.hippfest.co.uk