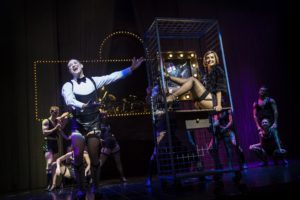 When I was asked to do a review of Cabaret, performing this week at the Edinburgh Playhouse, I have to say I had reservations. I have never watched the famous 1972 film version starring Liza Minelli and I'm in the dark about the story behind the musical, apart from the fact it's set in Berlin in the early 1930s. When I read that two of the leading cast were Will Young, forever associated with Pop Idol, the talent show which launched his career ten years ago and Louise Redknapp, formerly of girl band Eternal, my anticipation didn't exactly reach stratospheric levels.
However, when the show ended shortly after 10.00pm on Tuesday's opening night, my opinion had changed.
The story of a young American, Clifford Bradshaw, played by Charles Hagerty, arriving in Berlin hoping the city will inspire him to write a novel is the premise. However, Clifford finds himself in a surreal world of cabaret acts, black market traders and an ever-darkening political landscape.
Cabaret comes with the inevitable fishnets, suspenders and corsets – and that's just the ebullient host for the evening Emcee, played quite brilliantly by Will Young! Bold, impish and clearly loving this role, Young gives arguably the performance of his life, even adding the odd ad-lib (when his address to the Edinburgh audience produced a somewhat muted response, he mocked to the front row 'well three people liked it!')
Hagerty's performance as Bradshaw is also impressive, an antidote to Emcee with Clifford clearly alarmed at what was happening in 1930s Berlin as Hitler's Nazi Party gained more and more influence on Germany's politics.
The role of Sally Bowles – Bradshaw's girlfriend – is played by Louise Redknapp. Now you could scarcely call me a fan of Eternal, but I was surprised by her powerful performance at the Playhouse. Those who still remember the film will inevitably compare Redknapp's role with Liza Minelli, but the former runner-up of BBC Television's Strictly Come Dancing was impressive throughout.
Those of us who are old enough to remember that classic television drama from the 1970s – A Bouquet of Barbed Wire – will remember Susan Penhaligon's brilliant performance as Prue. More than 40 years have passed since that memorable series (yes, really) but Penhaligon's performance as Fraulein Schneider in Cabaret was superb and her relationship with Herr Schultz – played by the wonderful Linal Haft – touched many hearts with the inevitable outcome of a German woman contemplating marriage to a Jew in 1930s Germany.
Without giving too much away, the end of the show will leave you spellbound and is a tribute to the superb performances of a highly talented cast.
My only bone of contention was that, on occasion, I did struggle to hear what Will Young was saying in his mock German accent. However, this might have been something to do with the acoustics of the theatre.
If you're thinking of how to escape the relentless pre-Christmas tosh on television this week, then what good is sitting alone in your room? Come hear the music play – for life is a cabaret, old chum. Come to the cabaret – at the Edinburgh Playhouse this week until Saturday.
You'll be glad you did!
Cabaret is at the Edinburgh Playhouse until Saturday 18th November 2017. Tickets here.
Edinburgh Reporter rating: ****