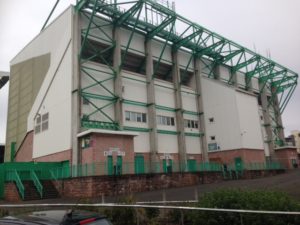 Hibernian Community Foundation has teamed up with The University of Edinburgh to create a Hibernian based SCQF course, 'Football More than a Game'.
Professor Grant Jarvie and Jackie McNamara Sr meet up with some of the first intake of students.
Grant Jarvie said The course leader Grant Jarvie, Scotland's first Chair in Sport and founder of Edinburgh's Academy of Sport – Scotland's first Global Sports Observatory explained "Three years ago when the Edinburgh launched the first massive open online courses on football  the original intention was to be able to deliver education through football in local communities  – many of which are in original heartlands of Scottish football,  for men, women, boys and girls"
The course will introduce you to the game of football and some of the issues facing the game.  The course will use information about the origins and development of Hibernian Football Club as basis of learning about football finances; football data; football history; football for all and football for health. It encourages you to reflect upon issues affecting the game, how you make sense of them, what evidence and data is available, and what some of the solutions might be.
Most importantly it asks why and if football is more than a game and if Hibernian Football Club is more than just a football club.  In order to answer such questions, it is important to think about the broader contribution that football can and does make.
Week 1 – Introduction, Football History and the Making of Hibs
Week 2 – Football Finances and the Hibernian Football Club
Week 3 – Football for All, Community and the Hibs Family
Week 4 – Champions, Rivalries, Derby's and Great Football
Week 5 – Football for Health, Football Memories and Fitness
Week 6 – Football More than a Game: Why?
Week 7 – Football Futures and Hibs Football Club
Course Lecturers: Professor Grant Jarvie; Neil Speirs and Stephen Morrow
Start date: Monday 6 November 2017
Times: 10:00 – 11:30
Weeks 1-7
Venue: Hibernian Community Foundation Learning Centre (South Stand)
To apply contact kmcewan@hiberniancommunityfoundation.org.uk
Call: 0131 656 7062