On Friday 10 November Museum Lates is back with a Jacobite theme marking the end of the Bonnie Prince Charlie and the Jacobites exhibition at the National Museum of Scotland which has been running all summer.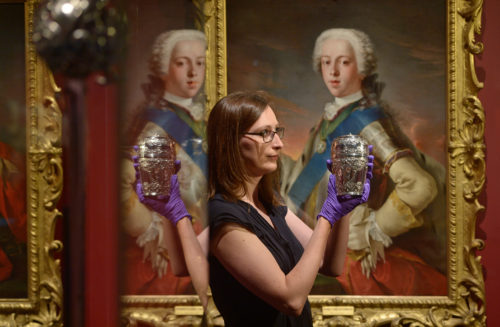 For those looking to dance the night away, Museum Lates plans a ceilidh to remember. Experts and novices alike will be invited to dust off their do-si-dos and swing their partners to and fro as traditional tunes played by The Jacobites ceilidh band reverberate around the iconic Grand Gallery. The ever-popular silent disco will return to the Imagine gallery providing the opportunity to dance like no-one's watching and sing like nobody's listening.
Traditional will meet contemporary when headliners RnB pop duo Bossy Love take to the stage with their outlandish style. The event will be hosted by Museum Lates favourite Vic Galloway who will also be providing a selection of floorfillers to bring the night to a close.
The ceilidh is just one of the many Scottish-themed activities taking place throughout the evening to mark the final weekend of the Bonnie Prince Charlie and the Jacobites exhibition, which closes on Sunday 12 November. Event-goers can pledge their allegiance to the Jacobite cause at craft stations by making a cockade to add a flourish to any Friday night outfit, or they can channel their inner Jacobite with costumed capers at the photo booth and secret Jacobite symbols temporary tattoos.
Outlander fans can create their own film scene with the Edinburgh Sketcher, staff from our curatorial team will be on hand to tackle fake news Jacobite style and Hawthornden Court will reflect the grandeur of the European Jacobite courts.
No Museum Lates would be complete without pop-up bars and food stalls. Stop off at the gin bar in the Entrance Hall, sip prosecco in the Grand Gallery and sample street food to keep energy levels up for the evening's eclectic entertainment.
Late-goers will have the rare opportunity to explore the National Museum of Scotland at night. Combo ticket-holders can also delve into the complex and layered story of the Jacobites in the five-star exhibition, Bonnie Prince Charlie and the Jacobites.
Tickets are on sale now at www.nms.ac.uk/lates or call 0300 123 6789. Strictly 18+. The live music programme is curated by media partner, The List.
Tickets for the Museum Late only are priced £12 (£10 concessions and National Museums Scotland members), combined tickets for the Late plus admission to the exhibition, Bonnie Prince Charlie and the Jacobites are £20 (£18 for members/concessions).
Museum Late: Jacobites
Friday 10 November 2017, 7pm–10.30pm
National Museum of Scotland, Chambers Street, Edinburgh
#nmslates
Photo Neil Hanna Photography
www.neilhannaphotography.co.uk
07702 246823