A 24 hour indoor charity cycle raised £1100 for charity.
Both staff and students at Edinburgh Napier University cycled their socks off for Macmillan Cancer Support for a whole 24 hours!
The participants used the exercise bikes at the [EN]GAGE fitness centre at Sighthill campus and effectively cycled from here to Moscow.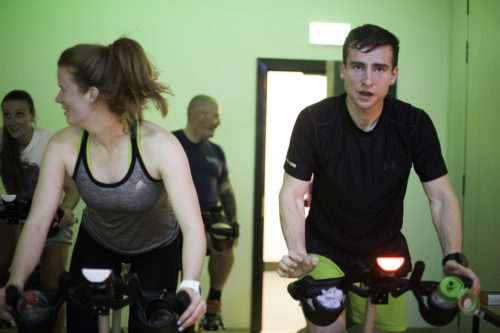 Members of the [EN]GAGE team, university Triathlon club, Macmillan Movemore and coaches and players from the Sighthill-based Scottish Rugby Academy were among those who signed up for the marathon effort.
The event was organised by Dana Warnock and Gerry Higgins, fitness staff at [EN]GAGE. They cycled for 7.5 hours each and remained at the event for the full 24 hours.
Dana said: "It was a big challenge but it went really well. We added up our mileage to see how far we had travelled 'as the crow flies', and at the end an impressive 1581 miles were covered.
"I would like to thank all those who took part, supported the event, gave their time and donated their cash."