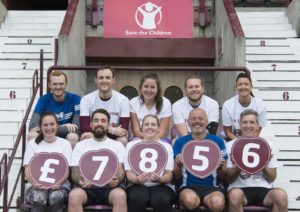 Big Hearts have teamed up with Save the Children at the Edinburgh Marathon Festival (EMF), enabling supporters to raise an outstanding £7,856 which will go towards local projects for vulnerable children and families.
Back in January, Big Hearts and Save the Children launched a conjoint team of runners for the EMF – the first partnership of its kind between the two charities who are both partners of Hearts FC.
25 supporters took up the challenge in May running on behalf of the Club at the EMF races, whilst raising a total of £7,856.00! The funds will be split 50/50 between Big Hearts and Save the Children and will provide a fantastic help to run local projects in the community, including Big Hearts' Kinship Care programme and Save the Children's schools based FAST programme (Families and schools together).
Big Hearts are naturally extremely proud of this collective achievement and have said a big 'thank you' to all the runners. They are very grateful for all the efforts and commitment to support Big Hearts.
Charlotte Cailliez, Big Hearts' Interim Communications & Fundraising Officer said:
"We have been amazed to see the commitment from Hearts fans in supporting Big Hearts and Save the Children at the Edinburgh Marathon Festival. We would like to thank each of the 25 runners for their great efforts and this superb collective achievement. For our first participation at the event, the funds raised are beyond our expectations. Big Hearts is now in a position to help even more vulnerable families across our existing programmes of support and we are very grateful for this."
Laura Porteous, Save the Children's Scotland Fundraiser said:
"A big well done to all of our runners who took part in the Edinburgh Marathon Festival and endured months of gruelling training. Out of all the charities they could have fundraised for, they chose Save the Children and Big Hearts, pledging their support for local children. We want to celebrate every one of them today and we're humbled by their efforts. We hope they are as proud of their major accomplishment as we are."