SEE UPDATED DIVERSION ROUTES AT END
Scottish Water will start upgrading the Victorian sewers in the city next month to keep the capital's waste water flowing, and you would be well advised to avoid the Haymarket area while they are doing so.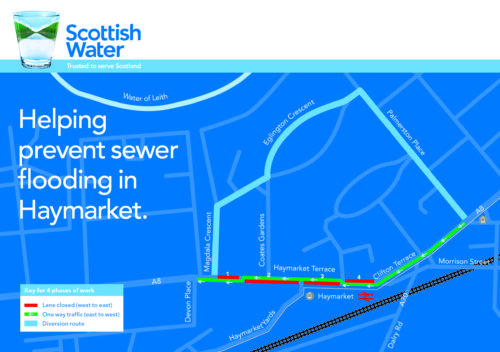 This is all a part of Scottish Water's programme of investment between 2015-2021 and £29.5m of water and wastewater infrastructure projects across the capital  have been scheduled by agreement with The City of Edinburgh Council, residents and businesses.
The £2.5 m project at Haymarket is part of Scottish Water's on-going investment across the city which will significantly strengthen the infrastructure which serves Edinburgh and plays a critical role in ensuring the city functions effectively.
The modern sewer will be installed along Haymarket Terrace which will increase capacity and reduce the risk of flooding for properties and businesses in the area.
Scottish Water's alliance partner Amey Black and Veatch (aBV) will commence the work on 4 September to upgrade the original egg-shaped brick Victorian sewer which is at capacity and now requires upgrading.
The project comprises of four main phases to install a new 1.2m diameter storm storage sewer pipe, starting on Haymarket Terrace at the junction with Magdala Crescent and moving east towards Haymarket Station.
Traffic management will be implemented to ensure vehicles and public transport can flow during the period of the work, with other measures planned to allow residents and business to operate as normal.
James Weir, aBV project manager, said: "The works have been planned and discussed in detail with the City of Edinburgh Council. This is essential work which will build capacity into Edinburgh's sewer network and ensure the city's waste water cycle is fit for the demands and future development of a 21st century capital."
Scott Fraser, Scottish Water's corporate affairs regional manager, said: "Scottish Water is absolutely focused on providing our customers with excellent waste water services which meet their needs and which have the capacity to deal with demand on the network.
"The Victorian-era sewer network needs to be upgraded to meet the needs of a modern capital city which is constantly growing and developing.
"We have been liaising closely with aBV, and the City of Edinburgh Council to minimise the disruption to residents, businesses and commuters as far as possible.
"We are halting the works during the Christmas roads embargo period from 11 Dec 2017 – 12 Jan 2018 to support businesses during this vital trading period. We will ensure that all businesses in the area can operate as usual and will regularly visit all affected businesses to discuss concerns and ensure we are capturing their needs. We would also encourage the public to check Scottish Water's social media channels – Facebook, Twitter and Instagram for regular updates."
The work will be carried out in phases until the Christmas embargo in December, recommencing in January 2018 with completion expected by early summer.
During the work three lanes along Haymarket Terrace will be closed. One lane will remain open for traffic heading west out of the city. For inbound traffic a diversion route through Magdala Crescent, along Eglington Crescent and down Palmerston Place has been agreed with the City of Edinburgh Council. Local access will remain open, though there will be some parking restrictions in certain sections and footpaths will remain open. Scottish Water will closely engage with the transport network in Edinburgh to ensure tram routes will be unaffected, bus route diversions are in place and taxis are accommodated at temporary ranks.
In advance of the road closure signs will be put in place in various locations, including on Traffic Scotland motorway gantry signs on the M8 and M9 into the city and within Haymarket train station to advise commuters of the works.
Scottish Water have issued an updated plan which you can see here and which does not have green arrows on West Maitland Street (where cars cannot travel westbound anyway)