Traffic will begin to use The Queensferry Crossing this morning  marking the end of a momentous  journey.
The project may be about 10 weeks late but at almost £250 million under budget, this new infrastructure is expected to deliver a timely boost to Scotland's construction and tourism sectors.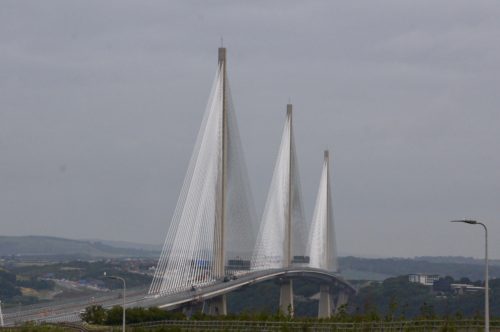 International media, business, potential investors and commentators are all said to be poised to witness events over this weekend and next week. Sadly it appears that all media passes have already been allocated, and we will not be able to witness the opening ceremonies close at hand.
Using this milestone, a  Forth Bridges Tourism strategy will be unveiled later this year. This will use the unique sight of three bridges one built in each of the last three centuries as a unique setting and world-leading visitor destination.
The bridge has been a catalyst for employment and business opportunities since work began.
Over 15,000 people have been inducted to work on the construction site since 2011, clocking up over 18 million hours of work in the process.
Thousands more have been indirectly employed and have benefited through the project's supply chain. Scottish firms have been awarded sub-contracts or supply orders on the project with a total value of over £350 million.
As of this morning – for two days only traffic will be diverted onto the new bridge, The Queensferry Crossing. Only pedestrians and cyclists will use the Forth Road Bridge for the next two days. Then from 1-7 September the Queensferry Crossing will close for opening celebrations.