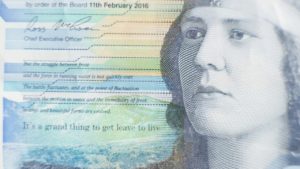 We are (not terribly comfortably, it must be said) seated in the Bosco Theatre, a wooden tent in the middle of George Street. Outside it's pouring, and inside it's decidedly damp; cagouls are gently steaming. Meanwhile a man in shades is physically interpreting Jefferson Airplane's White Rabbit as it's never been interpreted before. Welcome to On the Money, or, as Erlend Clouston retitles his talk, Zen and the Art of Rucksack Maintenance, an Edinburgh International Book Festival session on Nan Shepherd, latest star of the Scottish £5 note.
Erlend is one of Nan's literary executors. He was also a family friend of the acclaimed Scottish Modernist writer, knowing her for the last 35 years of her life and the first 35 of his;
'Nan introduced me to beer, similes, Raymond Chandler – and the secret of her hillwalking success.'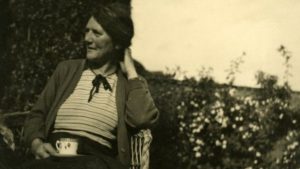 Erlend's family saw Nan as 'a slightly eccentric cousin', although she was not in fact a blood relation; as a child, Erlend's mother Sheila was 'unofficially adopted' by Nan's family, the two women remaining lifelong friends.
Nan lived at Cults on Deeside most of her life, often visiting Sheila's family and becoming totally involved in their lives – so much so that when Sheila's brother Grant went on his honeymoon to Braemar, Nan tagged along 'for companionship'. Presumably that was OK with his new wife Jean. Maybe Grant thought he was just there for the fishing?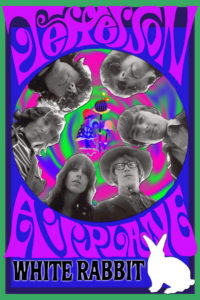 Erlend and his siblings loved Nan; they spent holidays in Cults (the Shepherd residence, Dunvegan, was 'for us a cross between Buckingham Palace and Camelot'); later on Erlend and Nan went on holidays together. But had she had her own children, Erlend says, the solitary ramblings in the Cairngorms that she enjoyed so much, and which led to the writing of her masterpiece The Living Mountain, would simply not have happened.
As is so often the case, Cyril Connolly's 'pram in the hall' would have put an end to all that. Although she certainly had love affairs, Nan did not marry; she was one of the first women to go to Aberdeen University, before becoming a lecturer at Aberdeen College of Education. Through Sheila, she could live family life vicariously, which gave her the best of both worlds – and allowed her to escape domesticity whenever she wished.
So why are our ears being assaulted by White Rabbit?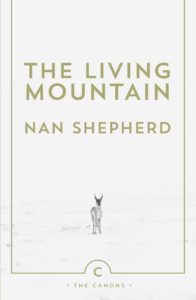 Erlend links (abeit sometimes tenuously) episodes in Nan's life together with entertaining slides, and rather loud music. In The Living Mountain Nan writes;
'…breaking suddenly into a hollow I have counted twenty white hares at a time, streaking up the hillside.'
Yes, hares. See what I mean by tenuous? But fear not, there's another link to this hallucogenic hit of the 60s coming up. In the meantime, it's a mark of Erlend's showmanship that he can sweep the audience along with his enthusiasm and confidence; without a pause he's segueing into the next anecdote, passing round a sampler made by Nan at the age of just 6, which shows her 'extraordinary keen eye' and showing us a jar of raspberry jam; 'essence of Nan'.
And it's not long before he's conducting a singalong of The Happy Wanderer – by which time he's wearing the appropriate Alpine hat, of course – and positing that The Living Mountain owes its existence to the German army. The book was written towards the end of World War II, in which Aberdeen was the most heavily bombed city in Scotland. Nan had previously visited Germany, loved the country and had German friends. The war was therefore a doubly horrific time for her. Wandering in the hills became her solace;
'In that disturbed and uncertain time, it was my place of ease.'
She would take the bus to Braemar and just walk. She was no Munro-bagger; the whole point of her walking was to wander and to think;
'Often the mountain gives itself most completely when I have no destination but have gone out merely to be with the mountain as one visits a friend, with no intention but to be with him.'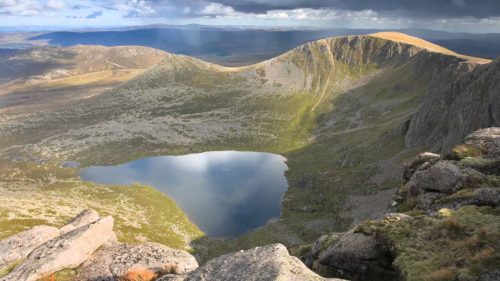 She talked of going not 'to' or 'up' the mountains but 'into' them. The Cairngorms for her were as much about imagination, meditation and mysticism as they were about nature and geology; she wrote of 'dissolution', of 'essence', of delectable nights spent under the stars, of living 'in the clear simplicity of the senses.'
Aberdeen was rich in links to the Orient. Tea clippers were built in its shipyards, Aberdeenshire merchant Thomas Glover founded the company that became Mitsubishi, and the oldest settlement in Hong Kong was named after the city.
'The East was in the air that Nan was breathing.'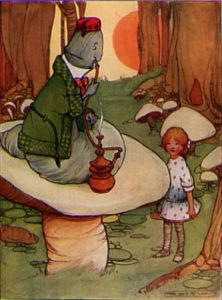 Increasingly interested in alternative ideas, she sought out writers 'digging for a deeper connection with the universe'. She read widely in Eastern literature and philosophy, looking for something to replace traditional religious beliefs. The Living Mountain, says Erlend, combines three of Nan's greatest talents; her Rousseau-esque view of nature as an escape from corrupt urban society, her flânerie, or haphazard strolling – her enjoyment of what life brought, be it good or bad – and finally her ability to 'take the reader by the hand and lead her to the edge of the infinite flux.'
And this is where those sunglasses come in. You may not previously have thought there was much connecting an Aberdeen nature writer and a leading proponent of mind-altering drugs. Erlend, aka Timothy Leary, is here to blow your mind. Jefferson Airplane again;
'And if you go chasing rabbits, and you know you're going to fall
Tell 'em a hookah-smoking caterpillar has given you the call'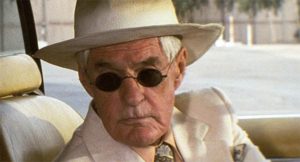 Controversial American psychologist Leary ('the Doctor of Tripping') said it was impossible to express the effects of LSD in words, but Nan's writing, says Erlend, conjured up a sense of the fourth dimension a good twenty years before Leary got going. The mountains were her drug and her salvation.
Although The Living Mountain was completed in 1947 it did not find a publisher for thirty years, when, at the age of 88, Nan was persuaded to pay for a print run. Few copies were sold (Erlend's family house was full of them), and four years later Nan died. Like so many literary classics The Living Mountain's fame grew by word of mouth.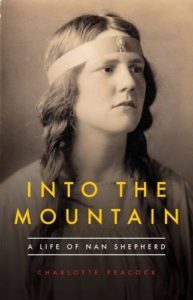 Mountaineers and hill walkers passed their copies on, acclaimed writers like Robert Macfarlane (who describes Nan as 'a blazingly brilliant writer, a true original') and Jeanette Winterson sang its praises, sales rose – and then it was discovered by design agency Graven Images, who just so happened to be looking for an image for the new Scottish £5 note.
Since then, says Erlend, the book has become unstoppable – it's been translated into numerous languages, Charlotte Peacock's biography Into the Mountain: A Life of Nan Shepherd, was published last month, there is talk of a film. According to Erlend you can even buy Living Mountain tattoos.
As our lives are lived at a faster and faster pace, slow walking has become as popular as slow cooking. The Walking Artists Network based at the University of East London is dedicated to walking as a critical and artistic practice. In 2015 Deveron Arts organised Anthony Schrag's Lure of the Lost: A Contemporary Pilgrimage, a walk from Huntly to Venice that questioned the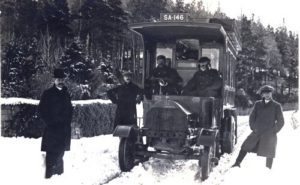 temptations of the Biennale, and Deveron's Walking Institute has several projects on the go, both locally and farther afield.
Here in Edinburgh the Collective Gallery runs a series of self-guided Observers' Walks created by artists specifically to be listened to on Calton Hill; the current one is Patrick Staff's To Those in Search of Immunity. What Nan – a woman who just got on the bus and went to the mountains – would have thought of all this stuff we cannot say.
'…one never quite knows the mountain, nor oneself in relation to it. However often I walk on them, these hills hold astonishment for me. There is no getting accustomed to them.' (The Living Mountain)
This was an interesting and entertaining presentation; Erlend overcame commendably the racket of rain and wind battering the Bosco Theatre ('the elementals are not governable' wrote Nan), it was just a shame that there was no time left for questions. Many audience members had travelled down from Aberdeen to hear about Nan – a lady I spoke to had set off at 7am that morning; it is a measure of Nan's popularity that 36 years after her death she can inspire people, many of them elderly,  to travel 120 miles in wet and wild weather. As Nan said;
'It's a grand thing, to get leave to live.'
The Living Mountain by Nan Shepherd, with an introduction by Robert Macfarlane,  is published by Canongate.
Into the Mountain: A Life of Nan Shepherd by Charlotte Peacock is published by Galileo Publishers.
Image of Ballater to Braemar bus in snow: Ballater Local History Group
Image of Cairngorms National Park: Cairngorms National Park Authority