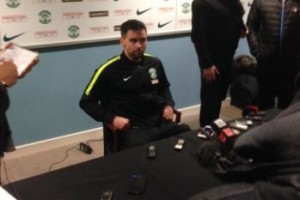 Hibs' defender Darren McGregor has praised the character of his team mates after coming from behind to secure all three points against Rangers at Ibrox yesterday.
The game kicked off in an electric atmosphere and Rangers took the lead in the second minute but Hibs fought back and equalised with a fantastic goal from Simon Murray.
An own goal gave Hibs a half time lead before new signing Vykintas Slivka made it 3-1 with  superb half volley from 22 yards.
Rangers pulled one back near the end but Hibs held on to record a memorable victory.
Speaking after the final whistle to Hibernian Media, McGregor said: "It's character building to come to Ibrox in front of 52,000 fans and to lose a goal in two minutes was very disappointing but I thought we showed great heart to come back the way we did.
"Our fans were superb but I have ever heard noise like today. It was almost above noise. It was like white noise it was that intense.
"Great credit to the boys and the travelling away fans who were high volume all day.
"I wouldn't like to say that Simon (Murray) is proving people wrong but the amount of important goals he has scored since he has come in and his work rate and overall game play has been superb.
"He probably could have got a couple today but he will get better because I know what kind of person he is. He is a hard worker and he analyses every performance.
"Ryan Jack lost his cool in an intense situation which he can't do. he has pressed his head against Stokesy and was rightly sent off and that swung things in our favour but we still had to create our own openings against a team full of internationals in their own back yard.
"Vicky's (Slivka) work rate was excellent today and he capped it off with a great goal. He came on against Alloa and Arbroath and Ayr and showed glimpse of what he is capable of but today he put the nail in the coffin with that performance. Up and down and side to side then caps it off with a goal.
"The gaffer said that there are not many teams will come to Ibrox and put on the type of performance that we did.
"After two games we have six points and are looking forward to Hamilton at home next week and we have to keep composed and keep doing the right things and if we do we should be OK."