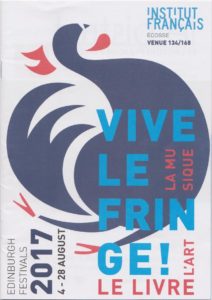 ''"Fringe" means threshold, departure, edge – and when the wheels spin, the edge is where the sparks fly.'
Cultural Assistant Ronan McMahon is speaking at the launch of the Institut français d'Ecosse (IFE)'s 2017 Fringe programme, Vive Le Fringe! And sparks will most certainly fly this summer, as the IFE hosts a vibrant selection of theatre, music, light installations, author events and workshops.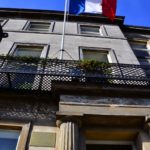 In 1947, just two years after World War Two had finally ended, the IFE opened in Free French House, official residence of the Consul located on Calton Hill. The property had been given as a rest house to the Free French – resistance workers who used the Clyde and Tay as key bases – in 1942. Now, with the war over, the French Consul returned to the city and the Institute became one of the founding partners of the new Edinburgh International and Fringe Festivals (yes, it's their birthday this year too.)
 L'Institut français d'Ecosse has been a major contributor to Scotland's cultural life ever since. 1947, says Ronan, saw 'a reopening of humanity's most positive attributes', and this year, perhaps more than ever, we all need a celebration of the human spirit through art.
Three very different shows form the core of this year's Vive le Fringe!
Théâtre sans Accents' Lost in Translation: A Bilingual Journey is the story of a young expat woman learning to navigate an alien culture – but, says creator/performer Marion Geoffray, 'the show is as much about you as it is about me'; it's a reflection on lack of understanding, on being out of our comfort zones, of how we can communicate beyond borders, or fail to communicate at all. Lost in Translation includes interaction, improvisation and physical theatre; it's performed in French, English, Gaelic and Occitan, but Marion assures us that this intimate journey celebrating languages, clichés and pop culture is accessible to all, even the typical British monoglot….
Lost in Translation: A Bilingual Journey is at IFE (Venue 134) 4pm, 4-28 August. Tickets £8/£6 (previews 4-6 August £6). Marion will also offer a theatre workshop in French Sur le bout de la langue on Friday 11, 18 & 25 August 6-7pm. Tickets £8/£6.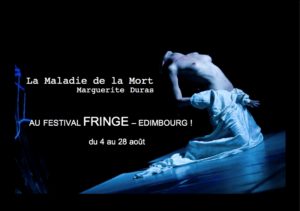 Collectif Or Normes' La Maladie de la Mort is 'a challenging reflection on the dynamics of sex.' Based on the 1972 novella by Marguerite Duras, it tells the story of a desperate man who pays a woman to spend several weeks with him to provide the travesty of a relationship. Dancer Alexandra Naudet and actor Bertrand Farge perform this electro-theatrical show, which includes music, visuals and choreography under video surveillance. Focusing on the inner workings of both the human soul and the theatre itself, La Maladie de la Mort ponders what it means to learn about love.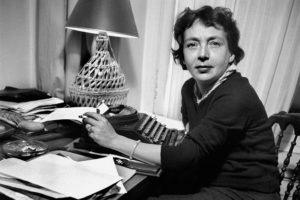 La Maladie de la Mort is at IFE (Venue 134) 6.30pm, 4-28 August (previews 4-6 August, no shows 7, 14, 15 or 22 August). There will be ten shows in French and ten in English: see https://tickets.edfringe.com/whats-on/la-maladie-de-la-mort-d-apres-marguerite-duras for details. Tickets £10/£8 (previews £6). Please note this show contains nudity and is strictly for ages 16+. You can also meet the artists at Q & A sessions after the performances on 13 and 20 August.
The IFE Book Club will discuss (in French) Marguerite Duras's Un Barage contre le Pacifique  and the creative legacy of this multifaceted author at 12.15pm on 27 July; contact IFE on 0131 225 53 66 for details.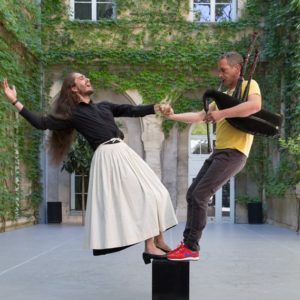 In September the IFE will be leaving Randolph Crescent for its new home at Lothian Chambers on the Royal Mile. The future Maison de la France will be, says French Consul Emmanuel Cocher, a hub for the arts, working not only with its partners in Edinburgh but also a wide range of cultural organisations across Scotland. As a taster, the new premises will become Fringe Venue 168, hosting five special performances of Membre Fantôme, bagpiper Erwan Keravec and choreographer Mickael Phelippeau's 2016 Avignon Festival dance creation. Bagpipes from France? Why yes – Erwan is from Brittany, which has two types of indigenous pipes, the veuze and the binio kozh; the binioù braz, or highland bagpipes, were introduced in the late 19th century.  According to co-producer Manon Crochemore '(in this show) the bagpipes are played like no-one has heard them before'. Keravac and Phelippeau's dynamic collaboration explores ideas of personal heritage, and what heritage really means, questioning the transformation of identity – the person we used to be but who is now gone forever, the 'Phantom Limb' which gives its name to their show.
Membre Fantôme is at IFE, Lothian Chambers (Venue 168) 2pm, 16-20 August. Tickets £12/£10. (Image: Pierre Grosbois)
For those of a slightly more traditional bent, two distinguished French musicians, oboist Francois Leleux and pianist Eric Le Sage will perform in concert at The Queen's Hall as part of the Edinburgh International Festival. The dazzling programme will include works by Saint-Saens, Hindemith, Poulenc, Butilleux, Dorati and Schumann. 11am, 16 August. Tickets £9-£32.50. And if it's opera you're after, look no further than the Usher Hall, where Sir Mark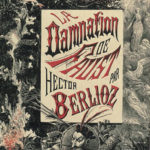 Elder will conduct Berlioz's La Damnation de Faust, with Laurent Naouri as Méphistophélès in a choral extravaganza featuring dancing skeletons, drunken rats and a wild, reckless ride to damnation. 7pm, 20 August. Tickets £13-£47 at www.eif.co.uk or  from The Hub, Castlehill (tel: 0131 473 2000).
Artist Heather Lander feels that digital technologies are moving forward so fast that no-one gets time to think about what's actually happening.  Are people losing a sense of their physical identity? Should there come a time when we say 'this is as far as technology is to go'? How we will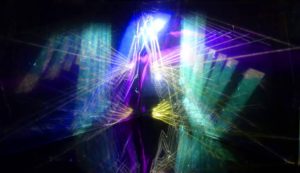 recognise and keep hold of reality in a world that is working towards complete virtual immersion? In Nearer Future, a sonic light sculpture created in collaboration with composer Robert Bentall and Glasgow-based arts organisation Cryptic, Heather seeks to open a discourse about the physicality of the natural world and the virtual horizon, using projection and sound to create an abstracted, moving image installation. To see Nearer Future, which forms part of Edinburgh Art Festival 2017, just ask at the IFE front desk  between 4-13 August (closed 7 August).
Meanwhile…in Charlotte Square, the Edinburgh International Book Festival will welcome a plethora of French writers, from children's illustrator-author Stephane Barroux to thriller writer Michel Bussi. And can you imagine Brian Cox meeting Tintin? Mathieu Burniat and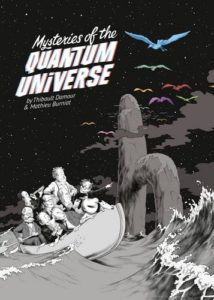 Thibault Damour can – in their graphic novel Mysteries of the Quantum Universe heroes Bob and Rick (he's a dog) have crèpes with Max Planck, talk to Einstein about atoms, visit Louis de Broglie in his castle, and hang out with Heisenberg on Heligoland. What's not to like? Tickets from https://www.edbookfest.co.uk/.
And if, after all that culture, you're needing some more earthly sustenance, fear not – or indeed, n'ayez crainte! Marie Antoinette may (or may not) have said 'let them eat cake', but the Institut français has brought in the wonderful Patisserie Maxime to offer you not only delicious pastries but also light meals, set menus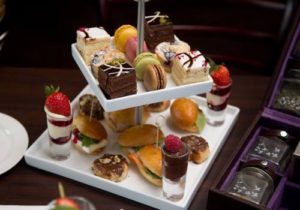 and drinks – afternoon tea in the garden with views over the Water of Leith anyone?  Le Bistrot is fully licensed and will be open at Randolph Crescent from 12 noon till late on show nights.
Ronan McMahon concludes: 'Themes of identity and heritage are especially pertinent in times when such things are challenged – so Vive le livre! Vive la musique! Vive l'art! Vive le Fringe!'
For more information on all events, and on the many regular events and courses offered at the French Institute thoughout the year, call 0131 225 5366, visit http://www.ifecosse.org.uk/ or drop in to 13 Randolph Crescent during opening hours.