What do you expect when you go to the circus?  The greatest show on earth?  The glitzy smiles, the glitter of sequins, the drum rolls as performers who seem superhuman effortlessly perform death-defying acts?
Creator Ellie Dubois returns to the Edinburgh Fringe after her highly acclaimed Ringside in 2015.  No Show joyously and heartbreakingly reveals what lies hidden beneath the showmanship.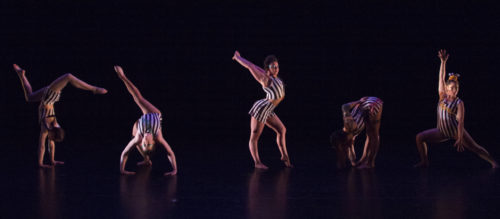 No Show opens with five strong, glamorous, female circus artists – the perfect 'show girls' performing to the best of their ability, showcasing their spellbinding acrobatics and flexibility.  After this initial opening number the show starts to break down.
Instead of showing only perfect tricks, No Show starts to unveil attempts and failures, revealing frustrations and how artists are pitted against each other.  The audience learn of everything that could go wrong from finger crushing to concussion and shoulder dislocation in a Cyr Wheel act.
There will be desperate attempts and heroic failures, glorious achievements, bruised bodies and egos as the performers push themselves to their physical and mental limits.  Behind the flawless smiles and perfect execution of traditional circus performance, see the wobbles, the pain and the
real cost of aiming for perfection.  This is a show for anyone who has tried, failed and failed better.
No Show deconstructs superhuman circus performers and shows them as vulnerable and human.  It explores the idea of not always making it and about knowing when to give up and when to go on.  It asks whether it might
sometimes be better and more interesting to be flawed rather than flawless.  With an all-female cast, this is particularly relevant in era when women feel under increased pressure to be perfect in every aspect of their lives.  This is a
production that puts female strength, skill and power centre stage.
Ellie Dubois said; "With No Show, I wanted to break the mould of male dominated circus ensembles by working with five hugely talented female circus performers.  It's a fun and spectacular circus show for all ages, but it's also a piece about ambition and achievement which questions what success really means and why we push ourselves to accomplish it."
No Show is in association with, and supported by, Roundhouse and Platform.
Summerhall (The Old Lab), Summerhall Place | EH9 1PL | 2 –  27 Aug 2017 (not 10 or 21) |16:15
Tickets here