The Scottish Organic Producers Association (SOPA) are encouraging others to Wake Up To Organic as they show how easy it is to switch to an organic breakfast.
SOPA are supporting the Organic Trade Board (OTB)'s Wake Up To Organic Day tomorrow Wednesday 14 June.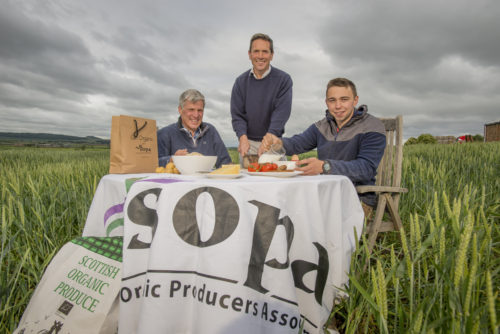 Scotland's organic farmers, processors and producers are able to grow and create a range of organic food and drink from staples like oats, milk, flour, vegetables, fruit and meat to cheese, ice-cream, chocolate, craft beers, whisky and more.
Organic produce offers a range of benefits, including organic animals are reared on a grass-based free-range system, no pesticides, artificial fertilisers or artificial additives, crop rotations provide habitat variety and support more biodiversity, contributing no fossil fuels in the making of pesticides and artificial fertilisers.
What's more, organic animals receive fewer antibiotics and organic farming protects soil from pollution and erosion.
And there is more wildlife on organic farms because of the holistic approach to all elements of the ecosystem
SOPA members' New Leaf Co-op on Argyle Street, Marchmont, Edinburgh are Waking up to Organic, as are many other independent food stores throughout Scotland and the UK.
Hundreds of Independent retailers will also be hosting events and dishing up free organic mini breakfasts as part of the initiative..
Debs Roberts of SOPA said: "Events like Wake Up To Organic are so important for our industry. It's fantastic to see people coming together to promote independent shops and cafes, as well as the brilliant organic producers from around the country.
"Our members all work tirelessly for their organic businesses, and so obviously we wanted to show our support for all of them by taking part in the campaign."
To find out more about events going on near you, please click here.