Edinburgh Gossip Girls and Restoration Yard in Dalkeith Country Park have organised an event tomorrow morning inviting mums to breakfast and some time for themselves.
Mums who sign up can drop off the kids at Chapter One Childcare nursery within the Park's grounds, before enjoying a one-hour gentle yoga flow class by Katy Wakefield Yoga at Restoration Yard's dedicated recuperative space, Wellbeing Lab.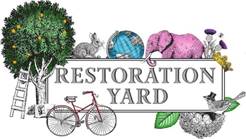 They'll also get to catch up with other club members over a healthy breakfast at Restoration Yard Café.
The event was thought up by mum-of-one and Edinburgh Gossip Girls founder, Kylie Reid.
She said: "Edinburgh Gossip Girls is a group designed to offer support and a sense of community to like-minded women who have either recently moved to the area, or who are looking to connect with others in potentially similar situations.
"We love to organise events that bring mums together, especially when it involves a bit of 'me' time – which is usually in short supply! Restoration Yard is the perfect place for the event. Not only is the space focused on restoring the mind and spirit, but it also allows members to leave their kids in the capable hands of the team at Chapter One Childcare at Dalkeith Country Park.
"The event is limited to 20 spaces and tickets are available online – anyone who joins Edinburgh Gossip Girls is more than welcome and I can't wait to see everyone there. We hope it will become a regular event."
Jen Wood, Programme Director of the Wellbeing Lab, said: "We're delighted to team up with Kylie and the rest of the Edinburgh Gossip Girls to give local mums some precious time to look after their own health and wellbeing – and enjoy each other's company."
Mama's Restorative Breakfast Club will take place on Friday 2 June 2017 from 8.30am-11.30am. Tickets are available to members of Edinburgh Gossip Girls, from www.edinburghgossipgirls.com/, until 31 May 2017.
Find out more about Wellbeing Lab's programme of classes and workshops at www.restorationyard.com  or Restoration Yard's social media channels on Facebook https://www.facebook.com/DalkeithCountryPark/, Twitter @RestorationDCP and Instagram @restorationyarddcp.