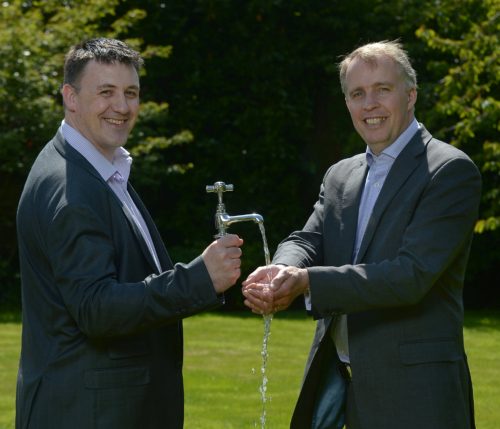 Water retailer start-up Brightwater, based in Musselburgh, has announced a successful first year of business. The company won its first customers in May 2016 and a year on has secured supply contracts in excess of £1.3 million in annual value across over 800 sites.
Brightwater was set up by entrepreneur Roger Green and digital marketing expert Rich Rankin, to support small to medium sized local businesses across Scotland in sectors such as retail, professional services, tourism and hospitality.
The company's business model is based on delivering cost savings of over £1 million in its first three years through competitive pricing, providing water efficiency advice to encourage businesses to use 10% less water and offering outstanding customer service.
Brightwater CEO, Roger Green said: "We are delighted with how the business has grown over our first year of operations as we are breaking into a heavily regulated market dominated by large corporates. Key to our success is our focus on delivering on our promises to our customers, partners and suppliers. Putting our customers first is at the heart of our business and we are building a loyal consumer base as a result of this.
"We've built a strong team of sales and customer service staff who work really well together and we strengthened our management team in February when we appointed 'business big hitter' Steve Langmead as Chairman. He has a successful track record in delivering businesses that set a new standard in customer care and will help us achieve our ambition to establish Brightwater as one of Scotland's leading retailers in the water industry."
Brightwater has a Small Business Charter that sets out the service customers can expect to receive including easy switching from other suppliers; advice on water efficiency and usage reduction, water audits, bill validation and rebates.
Managing Director Rich Rankin said: "We are building a reputation for being
professional, approachable and straight talking. We place a real emphasis on customer service and believe that we are changing the face of the water retail market in Scotland in how we deal with our customers. We don't have a call centre mentality, your query will be followed through by the same person so you don't have to go through the whole story again when  you call us.
"It's not just about helping switch businesses to a more competitive tariff, that's a given. We want to do more for our customers. We use our extensive market data to provide targeted analysis and advice that helps businesses save water and money. For example, we reviewed charging for Trust Recruitment (a care and nursing agency) after winning their account and identified an opportunity for them to significantly reduce their costs.  The net result was an annual saving of over 63% on the previous supplier."