The organisers of Film Fest in the City, Essential Edinburgh along with the Edinburgh International Film Festival have claimed that the 2017 outdoor film fest was an outstanding success.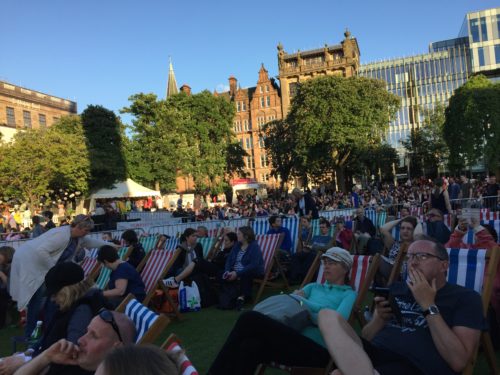 The weather was outstanding and this, along with the many films on offer attracted over 20,000 people to St Andrew Square Garden to watch blockbusters on the big screen.
Mamma Mia and Dirty Dancing on Saturday night were the big attractions when the garden was full.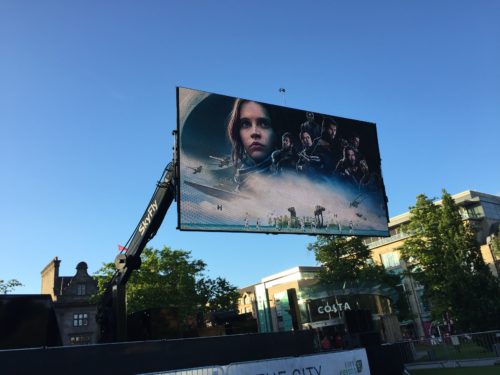 Roddy Smith, Chief Executive of Essential Edinburgh said: "All our EdinEvents produced activities aim to promote Edinburgh as a top destination to shop, eat, drink and enjoy the city. Our businesses will not only have benefitted from the increased footfall we generated over the weekend, but also from over £600,000 of economic impact created by the attendees that directly benefit shops, restaurants and bars.
The success of Film Fest in the City over the past six years is down to the superb partnership between Essential Edinburgh and EIFF and the production team at Unique Events."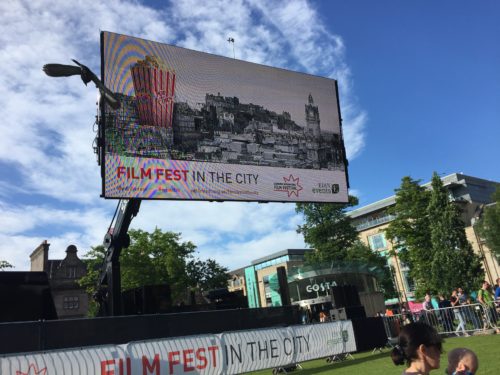 Ken Hay, CEO of Edinburgh International Film Festival, said: "EIFF's Film Fest in the City has really captured the hearts of Edinburgh's audiences.  We're thrilled to see record crowds enjoying the sunshine, ice cream and of course the films over the course of the weekend – a perfect start for the 70th anniversary edition of the Film Festival.  As ever, we're delighted to work with Essential Edinburgh in delivering this special event."
Al Thomson. Unique Events Director, said: "Unique Events are thrilled by the record audiences who joined us at Film Fest in the City this year, enjoying an incredible weekend of sunshine and stunning cinema. The perfect start to the summer festival season in the 70th Anniversary year of the Edinburgh's Festivals."
The Edinburgh Reporter did enjoy the film fest, and the big screen is a very high quality,  but we have some constructive criticism. We felt disappointed that there was nothing to eat. When your big banners and posters show a huge carton of popcorn then you might think you could buy some. This was simply not the case.
We were very lucky to get deckchairs to sit on, but wonder why there can't more set out in the other areas of the garden?
The only food on offer was at Costa, which sells a limited selection of things to eat. The bar area on Sunday late afternoon had run out of water, and £4 for a small glass of wine is just a bit over the top in our view!
The 2017 Edinburgh International Film Festival begins later today.