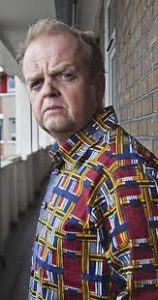 This unsettling, tense thriller moves back and forth through the film's timeline causing the viewer to try and work out the sequence of events and to distinguish what is reality from what lies in Carl's (Toby Jones) tortured imagination.  In rehabilitation after a spell in prison, middle-aged Carl contacts a young call girl (a mesmeric Sinead Matthews) and their meeting begins a chain of events which tightens around Carl like a noose.  Unexpectedly and against his express wishes, his mother comes to stay, introducing another darker colour into the kaleidoscope which continues to twist and split.  While Anne Reid exudes evil as the calm, sinister, sickly-sweet, manipulative mother who has obviously blighted Carl's life and whom he detests, Jones imbues Carl with a pathetic and deceitful desperation.
The music and the use of shape and colour add still further dimensions to this clever, disturbing film which is written and directed by Toby Jones' brother Rupert,  and which seeks to explore the cause and effect of abuse.  
Kaleidoscope has its UK Premiere at the Edinburgh International Film Festival.
See it:
Saturday, 24th June 2035 Cineworld
Sunday, 25th June 1545 Cineworld