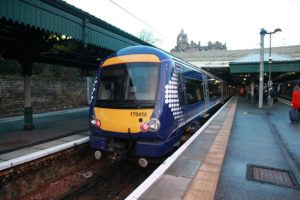 The ScotRail Alliance is leading a drive to improve the availability of electric car charging points in stations. 
A total of 50 stations across their 359-station network from Aberdeen to Wick will benefit from a new, free to use charging point which can charge two cars at once. With the use of low-emission vehicles on the rise, the ScotRail Alliance is keen to encourage their use, which will reduce carbon emissions by customers on their journeys to and from the station.
Construction work to install the first charger will begin in September, with all 100 spaces available from November this year.
The ScotRail Alliance's programmes and transformation director, Ian McConnell, said: "As a low-carbon transport provider, we are always looking for new ways to encourage more environmentally-friendly travel. Through the installation of these 100 electric car parking spaces, we hope to reduce our customers' carbon footprint from door-to-door.
"We have big plans to improve our car parks, and this is just one of the many improvements we have planned for the next 12 months."
The charging points are free to use; however, electric vehicles must still pay the relevant fee to park (where applicable).