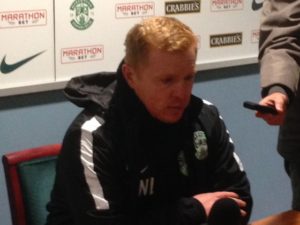 Neil Lennon criticised his players after Hibs' narrow defeat to Aberdeen at Hampden this afternoon and although he admitted that some may get accolades from the fans, he said that they would not get any from him and insisted that 'gallant losers were losers.'
Individual errors saw Hibs two goals down after 24 minutes before an inspired substitution helped level the game.
Hibs looked the more likely to score a winner however a speculative strike from Jonny Hayes deflected off Darren McGregor and wrong footed Ofir Marciano with minutes remaining.
After the game Lennon said: "Don't commiserate, it wasn't good enough. It was pathetic. Utterly pathetic. It was a semi-final, the pitch was good. We have been playing on quagmires all season. I wanted the players to go out and express themselves.
"You get set-backs, losing the early goal, but it didn't worry me because I have character in there but they just didn't show it. The first two goals were schoolboy stuff.
"I thought I was getting there but some old, bad habits started creeping back in there, players hiding, miscontrolling the ball and not being physical enough.
"We didn't turn up for 30 minutes then for the next 60 we were the better team by a long way.
"We scored two wonderful goals but you can't give any team a two goal start in a semi-final.
"People talk about tactics but it's about decision making. We got it back, the game could have gone either way but to be fair to Aberdeen they got a huge slice of luck for their winning goal, it happens.
"But for the first 30 minutes, I don't know, they need to have a good look at themselves. I don't mind conceding a goal after one minute because you have 89 to get back in, but we didn't show any responsibility. Two players did, Bartley and McGeouch.
"The rest looked like the boy band they've been over the last three or four years. It takes a 36 year-old  (Grant Holt) to come on and change the game for us. I thought he was brilliant.
"We get back to 2-2 but it's not our day because we lose Dylan and that's been the story of his career. It was a blow at the time because we were on top and comfortable.
"We had a problem at centre half all day. Efe had an allergic reaction to something before the game. He took some sort of medication at half-time.
"They got a huge slice of luck for the goal but I still think Darren could have done better for the third goal too."
"We make the change and suddenly we come alive. We looked poor at the back at times, too poor for my liking. We didn't look comfortable enough.
"We could have won the game, if we hadn't have gifted two goals we probably would have.
"Okay, it was a massive stroke of luck for Aberdeen's winner, maybe Darren could have adjusted his feet better.
"But for the first two goals Aberdeen didn't have to do anything. We just gave them the goals."
"Coulda, woulda shoulda. Gallant losers are losers. Forget it. You all know me, I am not interested.
"Boyle's in and should go down and  it's a penalty but he stays on his feet. Cummings is in and lets the ball run away from him. We have had opportunities to make it 3-3. McGregor kept winning headers in their box and we didn't react to the second balls.
"They are the most important bits that make a difference. You might get a touch or a penalty, we were too static.
"They get no accolades from me, they might do from the punters, but no accolades from me. Not today.
"They should have won, the opportunity was there, and they will have loads of regrets about the game. I'm not here to pamper them or say well done after that it's no good."