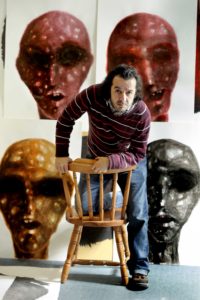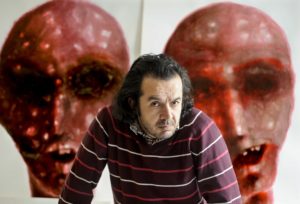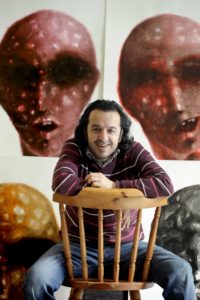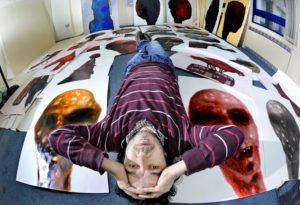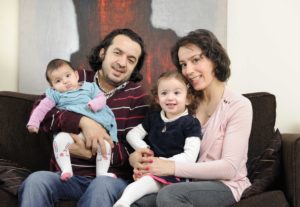 A respected artist who was on the first Syrian refugee flight from Lebanon is saying "thank you" to Scotland by donating paintings to a charity auction.
A Syrian Kurd from Aleppo, Nihad suffered the wrath of the Syrian regime and was arrested several times for opposing the regime.
Nihad Al Turk and his wife Sawsan Osso later fled their home in Aleppo for Beirut before eventually being brought to safety in Edinburgh in 2015.
A past winner of the coveted international Golden Prize at the Latakia Biennale, Nihad enjoyed an excellent reputation and was represented by the influential Ayyam Gallery in Damascus, as well as exhibiting internationally in Dubai, London and New York.
After arriving in Edinburgh Nihad was warmly welcomed by Leith School of Art (LSA) where he was given space to work, and supported as he began to rebuild his life and practice.
He has now donated three works to a charity auction raising funds for LSA on 24 March at Lyon and Turnbull, Broughton Place, Edinburgh.
Speaking through an interpreter Nihad said: "We have been made so welcome in Edinburgh, and the support I have had from Leith School of Art has been wonderful.
"I wanted to say 'thank you' to everyone, and the best way I can do that is through my art."
Nihad previously created a large work that was shown outside St John's Church, on Princes Street for Refugee Week.
Being in the city has influenced Nihad's art – and he has fallen in love with its great stone buildings, with the exterior of the Balmoral Hotel being a particular favourite.
He is now looking at plans to create an immense 75m long 1.5m tall circular painting depicting the city through his eyes, which he hopes would be shown in a public square.
Nihad is one of more than 50 artists who have contributed to the auction. Known for its high-quality, hands-on tuition its former students and staff include significant figures in contemporary British arts.
LSA has inspired thousands of students since 1988. Funds from the auction will allow it to continue providing the widest possible access to tuition through assisted places, community classes, schools outreach, and graduate residencies.
The auction is an opportunity to purchase work by LSA tutors, alumni and other well-known artists, such as:
John Brown: A long-standing exhibitor at the RSW, RSA and RGI, winning many awards including the Charles Rennie Mackintosh Association Residency. His work is characterised by a rich and vibrant palette and varied use of oil, mixed media and collage.
Callum Innes: One of the most significant abstract painters of his generation he has been short-listed for both the Turner and Jerwood prizes. His work is in collections from TATE London to the Guggenheim in New York.
Jean Martin: Member of the RSW, and known for her still life paintings, she works in watercolour, acrylics and mixed media and collage.
Toby Paterson: A leading Scottish contemporary artist and Becks Futures winner known for his highly distinctive paintings, reliefs and constructions.
Cathie Pilkington: The first female professor of sculpture in the 300-year history of the Royal Academy who previously taught sculpture at LSA.
Phil Archer, LSA Principal, said: "The generosity of all the artists contributing to the auction has been tremendous. It is particularly inspiring that Nihad, who arrived with almost nothing, is helping support our charitable work.
"We were introduced when he first arrived in 2015 and I have been impressed by his talent and determination to build his career in a new land thousands of miles from the home he was forced to flee."
Nihad and Sawsan, who previously worked in IT, along with their two-year-old-daughter Sara and Margaret (aged 16 weeks), are now working to establish his career in Scotland.
He said: "I worked hard for many years to build my career as an artist at home. But the war meant all that was lost and it became too dangerous to stay there.
"But I am determined not to surrender. I managed to bring some art materials with me to Scotland and within four days I started work again. My aim now is to start all over again and build my reputation in this new country that has been so kind to us."
One of LSA's recent initiatives has been to set up graduate residencies helping three talented students launch their careers.
LSA, which is based in a 150-year-old former Norwegian seamen's church, has grown from modest beginnings. An independent charity, its purpose is to teach art to a high standard and to be a nurturing place for students.
Around 300 students a week pass through the studios for courses, workshops and summer schools. Many who take the Foundation Course go on to secure places on the best university courses. For others it offers the chance to develop their creative gifts.