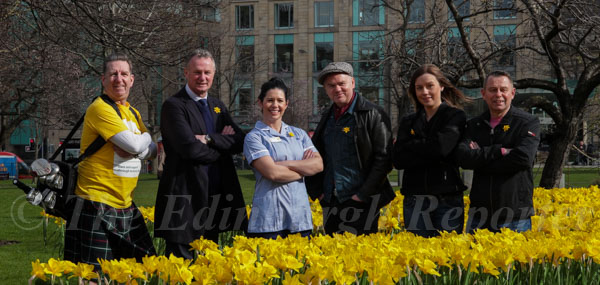 Over 2,100 handmade daffodils have been planted overnight at St Andrew Square Garden to make A Garden of Light celebrating the Great Daffodil Appeal .
The outdoor installation marks Marie Curie's Great Daffodil Appeal taking place throughout March. Each daffodil represent one of the Marie Curie nurses who provide round the clock care for those living with terminal illnesses. The installation will light up at night to demonstrate the light Marie Curie nurses bring to their patients in the darkest hours.
A variety of people who have a connection with the Marie Curie organisation were on hand on the launch day to emphasise the importance of the charity.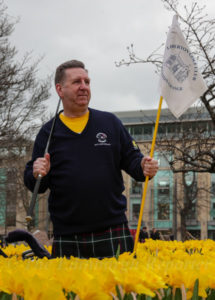 Marie Curie nurse Jennifer Leitch (age 31) from Lothian was there to remember her grandfather who died at the Marie Curie Hospice, Edinburgh 16 years to the day.
Singer-songwriter Dean Owens whose single 'Julie's Moon' (released 10 March) has been inspired by his sister Julie who was supported by Marie Curie prior to her death from cancer in 2015. All proceeds from his single will be donated to Marie Curie. (Footage and audio files available).
Kenny Motion aka 'the Kilted Golfer' took part in the 26 mile Kiltwalk last year carrying his full set of golf clubs. He raised over £6,000 which paid for a day of care at the Marie Curie Hospice, Edinburgh. His fundraising is in memory of four members of his family who have all sadly died from cancer.
Dave Brown and Rachael Brown from Bathgate were there to remember wife/mum Eileen Brown was cared for at the Marie Curie Hospice, Edinburgh.

The installation will be open for free to the public to enjoy from 16 March-18 March.
Visit their website here.