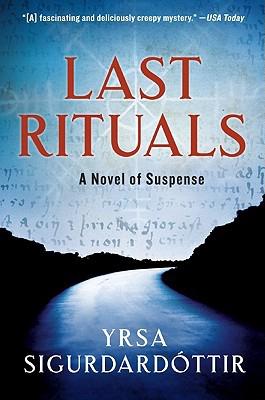 The book group at Blackwell's have been reading Icelandic crime.
Yrsa Sigurdardottir is a writer of crime fiction and children's fiction and the book group read Last Rituals.
This was the first in the Thora Gudmundsdottir series of six books from the 'Queen of Icelandic crime'. The story revolves around a murder and the fact that the family of the victim do not accept that the person convicted is actually guilty.
They send in their own investigator to team up with Thora the local lawyer to see what police have missed.
They retrace the steps that the victim Harald took when he was researching the history of witchcraft and magic, thinking that may have played some part in his death.
Some reviews show that this was regarded as a riveting read and a good mystery. but what did the book group think of it?
We met up with Ann Landmann from Blackwell's to find out:

The book group meets each month to read something different and next month they are reading That They May Face the Rising Sun by Irish literary great John McGahern and will meet on Monday 24th April at 6pm to discuss it.
On Monday 15th May at 6pm they will meet to discuss The Lover by Marguerite Duras.