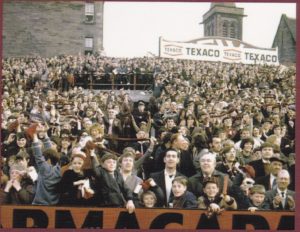 It was something my grandson Jack said to me as we departed Tynecastle following Hearts 4-0 demolition of Kilmarnock on a cold Tuesday night in between Christmas and New Year.
'I can't wait until Friday for the Aberdeen game'
I couldn't help but compare the palpable excitement of an 11-year-old eagerly anticipating his next visit to Tynecastle to the feeling of abject despair felt by an almost 11-year-old, generations earlier on 1st January 1973. At half-time on the freezing cold terracing of Tynecastle, I pleaded with my father to take me home. Hearts were playing Hibernian and were 5-0 down at half-time. His reply?
'You chose to support Hearts, son, so we're staying to the end'. The bitter end, as those of the Hibernian persuasion will all too readily tell you, as the game ended at 7-0 to the team from Leith.
While delighted at young Jack's enthusiasm two days after Christmas, I offered the advice of someone who has close to half a century's experience of being a Hearts supporter.
'Aye, son, we played well tonight. But you know we can't win every game. Being a Hearts fan means you have to take the rough with the smooth. And, more often than not, it's rough…'
Sure enough, just three days later, Hearts went from the sublime to the ridiculous as Aberdeen left the capital city's pre-Hogmanay party with an easier than expected victory. Jack's reaction this time was somewhat different.
'I'm not going back until we get a new team' he snarled.
A wry smile scurried across my face. Jack was echoing my own feelings which first surfaced way back on that first day of 1973. That was my first real taste from the cup of anguish and despair from which I would sip all too frequently in the decades that followed. Relegation in 1977 and 1979; Failure to win promotion in 1981; Dens Park 1986; Hampden heartbreak 1976, 1986, 1987 and 1996 (and the early 1990s known as the Airdrieonians Agonies…)
But it's the agonies and all-too frequent feelings of despair which attracts us to football. Followers of Hearts and Hibernian have their own reasons for following their clubs. It might be a family thing, passed down from generation to generation (as in the case of my grandson Jack – although my other grandson, Max, is being raised as a Hibby thanks to his father…) or it might be a twist of fate. My father took me to my first football game in 1968. We lived in Cumbernauld and he took me to Falkirk with the intention of bringing me up to be a Bairn (see what I did there?) But that game in October 1968 saw Hearts as the visitors – the Maroons won 3-1 – and I was bitten by the Jambo bug. Had Falkirk been playing Hibs that day, then who knows…?
Following Hearts has been a way of life for me. But it doesn't matter which team you support, football is a way of life for so many people. It's not just about the result or the performance, although this can influence one's mood for the rest of the weekend and invoke the question 'what's wrong with your face?', the questioner ignorant about Hearts losing to Kilmarnock…
It's the buzz one gets on the morning of a match. One more than one occasion, Mrs Smith has asked me what's on my mind as I lie in bed staring at the ceiling. My answer is usually connected with family matters or work issues or how the bedroom could do with a lick of paint. Anything other than will Liam Smith be in at full back today or will Ian Cathro play him in midfield?
The pre-match routine is built-in to the psyche and changing it, particularly if your team has accrued an unbeaten run, is sacrilege. This can range from wearing lucky underwear to a pre-match pint or three in your regular Saturday lunchtime local (quite possibly a pub you don't frequent any other time of the week) I was delighted when young Jack told me he wore his Hearts Roseberry away top as we took our seats at Tynecastle before the Aberdeen game kicked off. He wore this for the first time when Hearts hammered Kilmarnock three days earlier and the wee man told me he was wearing it for luck. Superstition is part of the DNA of your die-hard supporter.
Of course, Jack's sartorial choice for the Dons match would mean nothing as Hearts lost. But he was searching his mind for what we did differently pre-match for the Aberdeen game to what we did for the Kilmarnock game.
Following Hearts is fraught with danger. When we led Hibernian 2-0 in last season's William Hill Scottish Cup tie at Tynecastle, young Jack asked me who I thought we would get in the next round. I chided him with a reply that asserted you can never take anything for granted as a Hearts supporter. A reply that was fully justified as things turned out.
But that's what makes following teams such as Hearts so special. The rough with the smooth ensures you really savour the big wins and the cup triumphs. Watching Hearts lift the Scottish Cup in 1998,2006 and 2012 were special, never-to-be-forgotten moments in my life, up there with seeing the birth of my two daughters. Those triumphs made up for the years, indeed decades of disappointment of being a Hearts fan. Do followers of Celtic and, to a lesser extent, Rangers experience such moments? Celtic have the Ladbrokes Premiership won by Christmas. Excitement is not exactly on the calendar for 2017 for their fans, not until the summer at least when they have yet another tilt at qualifying for the Uefa Champions' League group stages.
Hearts and Hibs fans – and those of most other clubs – have a passion for their team that is based on what they have been brought up on. When things go wrong, as they so often do, then anger comes to the surface and blame is apportioned to the Head Coach, certain players or the chairman. There has been some media comment about some Hearts fans booing their team in games this season. But it's because the supporters care so much that this reaction is displayed. When fans head for home not really bothered that their team has lost at home to Aberdeen or have failed to beat Raith Rovers then the game is surely up.
No matter what team they follow, football fans like to think they're experts at the game. Why is Cathro playing this formation? What is Lennon thinking about by leaving out so-and-so? Hearts fans now have three weeks to stew on that defeat by Aberdeen as the 'winter-break' takes place, depriving them of their weekend routine and anticipation of what might happen. But, despite their disappointment they will be counting the weeks and the days until it's match day again.
When, yet again, they will prepare to take the rough with the smooth!