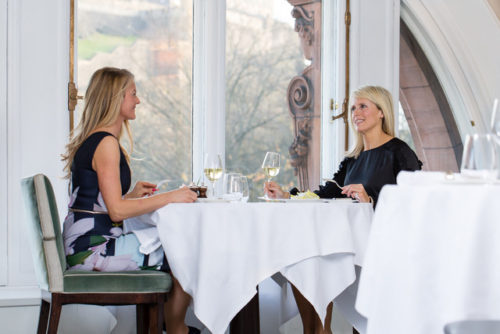 The Pompadour by Galvin launches Saturday Lunches
Situated in one of Edinburgh's most vibrant locations at the West End of Princes Street, Saturday lunches at The Pompadour by Galvin promise to be a wonderful way to celebrate the weekend.
Michelin-starred chef brothers Chris and Jeff Galvin have created two menus for guests to enjoy surrounded by the timeless elegance and charm of the unique dining room.
3-course lunch menu – £29
5-course tasting menu – £45
Both menus feature the very best Scottish ingredients that change with the seasons.
SATURDAY LUNCH 3-COURSE MENU
£29 for 3 courses
Starters
Globe artichoke ravioli, root vegetables, nage barigoule
Old Spot pork cheek & jowl, crackling, pickled cabbage & shiitake dashi
Chargrilled smoked eel, lobster bisque, shaved fennel
Mains
Jerusalem artichoke & truffle risotto
Loin & faggot of Edinglassie estate venison, pommes Anna, red cabbage & cranberries
Tagine of Perthshire pheasant, pastilla, confit lemon & harissa sauce
Desserts
Apple tarte Tatin, vanilla ice cream
Valrhona Manjari chocolate crémeux, dark rum, muscovado & coconut ice cream
Plateau de fromages, poached quince & honeycomb
SATURDAY LUNCH MENU GOURMAND
£45 for 5 courses
Globe artichoke ravioli, root vegetables, nage barigoule
∞
Old Spot pork cheek & jowl, crackling, pickled cabbage & Shiitake Dashi
∞
Tagine of Perthshire pheasant, pastilla, confit lemon & harissa sauce
∞
Plateau de fromages, poached quince & honeycomb
∞
Valrhona Manjari chocolate crémeux, dark rum, muscovado & coconut ice cream
The Pompadour By Galvin 
Waldorf Astoria Edinburgh – The Caledonian
Princes Street
Edinburgh, EH1 2AB
Tel. 0131 2228975