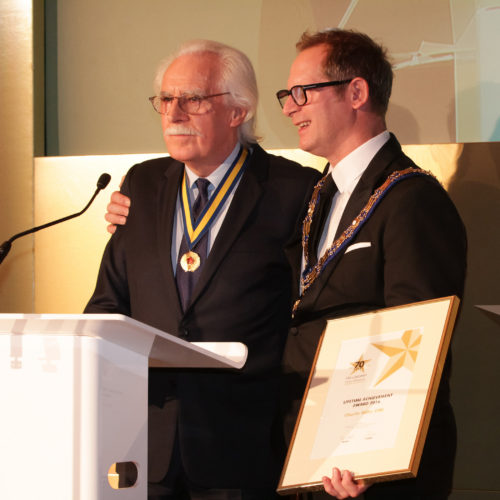 Towards the end of 2016 Edinburgh's own hairdresser, Charlie Miller OBE, received a Lifetime Achievement Award from the Fellowship for British Hairdressing.
The Fellowship held its  Luncheon & Awards at the Dorchester in London and gave the elegant Charlie this latest award, having in previous years, given him both the 'Fellow with Honours' and 'Fellow with Distinction' awards.
In The Dorchester's Ballroom, amidst rapturous applaud, guests took to their feet as an emotional Charlie accepted his award from Fellowship president, Bruno Marc.
Thanking his wife, his family and directors for their support in this great honour, it is a fitting end to the year during which his company celebrated  its 50th year in business.
He said: "I am honoured and grateful to receive this recognition from the Fellowship for British Hairdressing at this wonderful occasion. This award means so much to me and I accept it with grateful appreciation. I am very proud of my family and directors who are immensely gifted, inspirational and unique and continue to drive the business forward."
The Fellowship for British Hairdressing is dedicated to promoting the best of British and international professional hairdressing and the Fellowship Luncheon & Awards showcase and recognise individuals and companies who have contributed towards the organisation throughout the year.
Follow the Charlie Miller journey on social networks #50yrsTogether #cmHairdressing