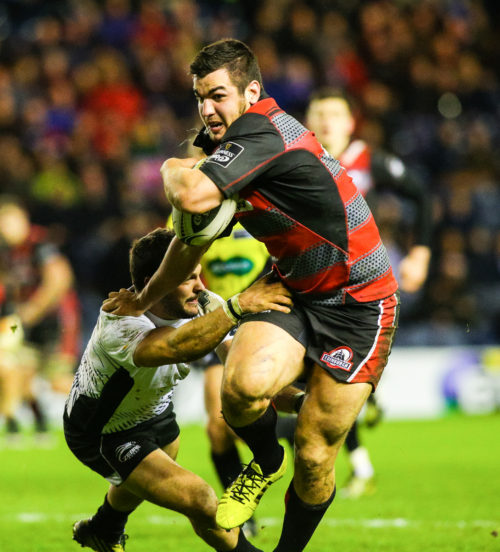 Edinburgh has always had a strong rugby presence in the Scottish Leagues, with the main thrust coming from the 'Public' school system. Currently, Edinburgh fields six teams in the top two divisions, with five coming from FP or former FP clubs and Currie, the latter being the 'odd-one-out', entering the fray in the early 1970s as a 'conventional', stand-alone sports club.
Boroughmuir, Edinburgh Academy, Heriots, Stewarts-Melville and Watsonians are all from the FP system, although Stew-Mel seems to be the only club currently retaining 'FP' in their title, with Accies and 'Sonians keeping tradition alive as 'FC' clubs. Currie, as indicated above, was formed in 1970 when "'Six good men and true' met in a pub…". Boroughmuir, for their part, while originally a fee paying establishment, had become part of the state school system during the 20th Century, but retained academic selection (until 1974 – Nineteen Seventy Four! – a date etched into my consciousness (JLP)) and, more relevantly, the game of Rugby Football as opposed to Association Football.
On the professional side of things, Edinburgh Rugby were 'repackaged' from the semi-professional Edinburgh District and, via Edinburgh Reivers (joint side with Borders) and – briefly – Edinburgh Gunners (Arsenal objected) have reached their current status as a fully formed, professional club playing in the Guinness PRO12 league.
So, how, and what, are they all doing?
First of all though, the usual disclaimer… As it was necessary to compile this article some time – end of October – before going to print, league positions, as quoted, may well differ to some degree. With the projected fixtures being post-publication, unless the weather intervenes, all should be good to go.
Where to start? Well, let's start at the bottom, literally.
With just two wins to date, Stewarts-Melville Former Pupils' Rugby Football Club – to give them their full title – play at Inverleith and currently lie 11th from 12 in the BT National League, Div.1. Having lost a fair number of their first team at the end of the 2015-16 season, they have had to try to rebuild from a core of old(-ish) hands, but are having a trying time, tending to play well early on in their matches before falling away as the games progress. Their home fixtures over the Christmas period are –
17th Dec. – Home to Marr
14th Jan. – Home to Musselburgh
The other Edinburgh club in the BT NL1 is Edinburgh Academy Football Club, who play at – the under redevelopment – Raeburn Place. They 'fell' from the top division at the end of the 2014-15 season, having enjoyed many years at the top table of Scottish Club Rugby. Currently, they lie in first place having won 8 of their 9 matches to date. Their crop of home fixtures over the Festive season are –
17th Dec. – Home to Jed Forest
14th Jan. – Home to Glasgow High
21st Jan. – Home to Selkirk
This 2016-17 season, there are four Edinburgh clubs in the BT Premiership – Heriots, Watsonians, Currie and Boroughmuir.
Fourth from this group and, currently, ninth in the table, are Boroughmuir. Their home ground is Meggetland and the former FP side had a year in the National Leagues, Div. 1 for the 2013-14 season, but bounced straight back with 16 wins from 18 matches. They have suffered a bit in the Premiership since returning, just managing to keep their heads above the drop zone last season.
3rd Dec. – Home to Watsonians
17th Dec. – Home to Hawick
Lying third in the 'Edinburgh table' in sixth, are the Premiership newcomers, Watsonians. They returned to the top division this season following a few years in the National Leagues, generally finishing in the top four or five, and just missed promotion a couple of times following late season loss of form. Watsonians can boast two former Scotland International players – Marcus di Rollo and Simon Taylor – in their coaching squad and play their rugby at George Watsons College ground at Myreside. They have managed to draw four their matches in the Edinburgh area.
3rd Dec. – Away to Boroughmuir
10th Dec. – Home to Glasgow Hawks
17th Dec. – Away to Currie
14th Jan. – Home to Gala
One place above 'Sonians are Currie. Playing their matches at Malleny Park in Currie, they have flirted with relegation for a few seasons now and have tended to start slowly, before clawing themselves to the safety of mid-table. This season, however, they have had a stronger start and are currently fifth in the division.
3rd Dec. – Home to Melrose
17th Dec. – Home to Watsonians
14th Jan. – Away to Heriots
And, last of 'the four', are current – and 2014-15 – Champions, Heriots. They have enjoyed a fairly successful few seasons, consistently finishing at the top end of the table. Playing their matches at Heriots Schools' ground at Goldenacre, they have the privilege of playing on one of the best maintained pitches in the country. They are currently the best placed of the four Edinburgh Sides in the BT Premiership, lying in fourth.
10th Dec. – Home to Boroughmuir
14th Jan. – Home to Currie
With just the fixtures within the Edinburgh area, both home and away, noted above, a complete list of League fixtures for Edinburgh's Senior club sides can be summarised thus:-
3December
10December
17 December
7 January
14 January
21January
Heriots

Hawick (A)
Boroughmuir

(H)

Glasgow Hawks (A)
N/A
Currie (H)
Gala (A)
Watsonians

Boroughmuir

(A)

Glasgow Hawks (H)
Currie (A)
N/A
Gala (H)
Melrose (A)
Currie

Melrose (H)
Stirling (A)
Watsonians

(H)

N/A
Heriots (A)
Hawick (H)
Boroughmuir

Watsonians

(H)

Heriots (A)
Hawick (A)
N/A
Ayr (A)
Glasgow Hawks (A)
Edinburgh Academy
Aberdeen Grammar (A)
Marr (A)
Jed-Forest (H)
Musselburgh (A)
Glasgow High (H)
Selkirk (A)
Stewarts-Melville
Falkirk (A)
Aberdeen Grammar (A)
Marr (H)
Jed-Forest (A)
Musselburgh (A)
Glasgow High (A)
Edinburgh's Professional side play in the Guinness PRO12 League and, this season, are also involved in the European Rugby Challenge Cup, the second tier of Professional Club Championships involving European sides. A slow start to the League season has left Edinburgh in the bottom half of the table, in 8th, with a top four place required to qualify for the end-of-season play-offs and a top seven for ER Champions Cup qualification. New, but interim, Head Coach, Duncan Hodge has made a decent start to his tenure with four wins from six matches – they tripped up over Zebre – with the most impressive being in a highly entertaining match against Harlequins in the ERCC meaning they now top their group with a full complement of 10 points.
| | | | | | | | | |
| --- | --- | --- | --- | --- | --- | --- | --- | --- |
| | 2 Dec. | 10 Dec. | 15 Dec. | 26 Dec. | 31 Dec | 7 Jan | 13 Jan | 20 Jan |
| Edinburgh | Ospreys (A) | Stade Francais (H)* | Stade Francais (A)* | Glasgow Warriors (H) | Zebre (A) | Munster (H) | Harlequins (A)* | Timosoara Saracens (H)* |
*ERCC Matches
So, as we can see, it's a busy period for all our Senior Clubs and, weather dependent, there should be plenty to see and cheer pre-, post- and during the Festive Season.