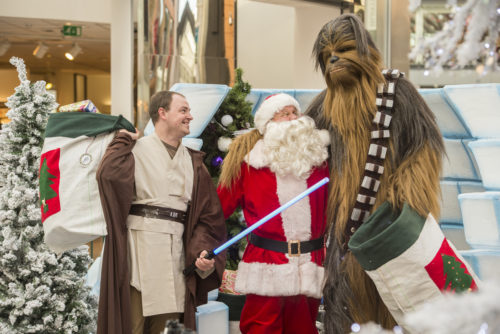 The force is strong with Santa this year at The Centre Livingston as Chewbacca and Obi-Wan Kenobi dropped by for a flying visit to give him a helping hand.
The 8ft tall, 200-year-old Wookiee posed in Santa's Grotto, for pictures adding a special touch for the children visiting.
Andy Brown, from Edinburgh said: "What a brilliant surprise we had when we turned up to see Santa at The Centre with the kids and they also got to meet their favourite Star Wars heroes too.  Don't think I've ever seen our 7yr old Rory so excited. It was a brilliant day which I'm sure our kids won't forget for a long time, and me, being a big fan myself."
Jennifer Bruce, Marketing Manager, said: "Huge thanks to our two surprise guests who dropped by to help Santa out in his Grotto, which our shoppers loved.
"The buzz in the mall was incredible as both Chewbacca and Obi-Wan Kenobi tried to manoeuvre their way through the crowds to and from the Grotto.
"The feedback and some of the pics coming in have been fantastic and definitely something we'll be doing again, especially ahead of the Capital Sci-Fi Con in Edinburgh in February, organised by one of our very own Community Local Heroes, Keith Armour, which we'll keep shoppers updated on via our Shop the Centre facebook page."
There will be festive food markets from today until 27 December as well as Santa's Grotto at the Centre.
Photos by Phil Wilkinson www.philwilkinson.net 07740444373 01316186373