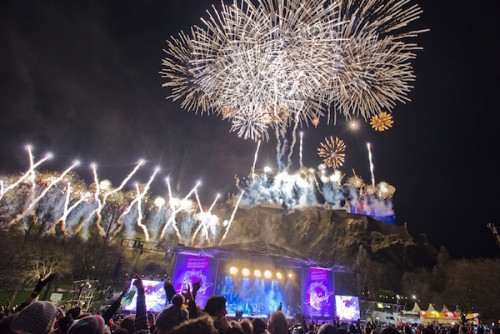 In another carefully staged announcement Edinburgh's Hogmanay drip feed another little bit of news about what's on over the three day festival.
The Street Party takes place over several stages and now Fatherson and Be Charlotte have joined headliners The Charlatans on the Waverley Stage.
Marc Strain of Fatherson said "We're incredibly excited to be playing at Edinburgh Hogmanay this year. We've been really lucky to tick off quite a few things from our bucket list this year but this is still on there. We've been pestering people to play it for years and it's nice to be in a place now to be invited to do so! We've had an incredible year and can't really think of any better way to see it out than in Edinburgh!"
Alan Thomson, Director of Unique Events, said: "We are delighted that Fatherson and Be Charlotte will make their Edinburgh's Hogmanay debut on the Waverley Stage this year. Edinburgh's Hogmanay is proud to have worked with so many of Scotland's finest music acts over the years and that tradition continues with two more up and coming Scottish acts completing the line-up for the 2016 Street Party. With different genres represented across four stages including funk, dance, celtic and indie, this year's Street Party really does offer something for everyone. We look forward to welcoming visitors from around the world to enjoy a fantastic night of New Year's celebrations."
There are other stages available in the city centre but you are now too late to get tickets for Paulo Nutini who will help Edinburgh celebrate the Midnight Moment on Hogmanay.
There are still tickets available for the Night Afore Concert with Paolo Nutini prices at £55. These are for the gardens but the enclosure tickets are already sold out.
For full information on all line-ups click here.