Event Horizon is at The Blind Poet, West Nicolson Street from 7.30pm on Monday 7th November; everyone is welcome!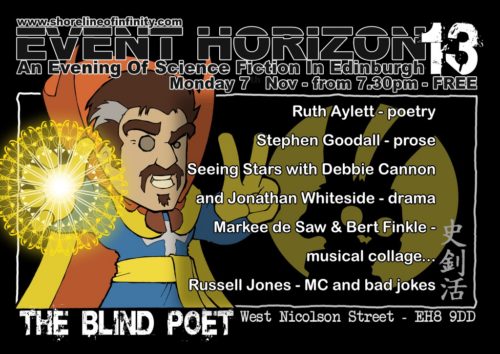 'As we sit around the fire of driftwood, sparks floating to mingle with the stars in the sky, we can share these tales, and remember one of the greatest gifts we have as human beings is our infinitely expandable imagination and sense of wonder.'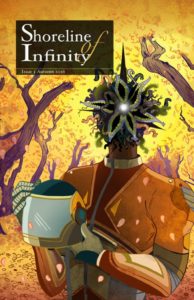 Shoreline of Infinity is Scotland's new sci-fi magazine, featuring fiction and poetry by writers you may know and some you may not, plus interviews, reviews, comic features and explorations of classic Scottish science fiction. Editor Noel Chidwick says;
'Science Fiction has always asked the big questions, more so than in any other form of literature. Where have we come from? Where are we going? Where do we want to be? What's going to happen? How will we cope? What's the story?….And that still holds true as we consider the effects of climate change and stripping the Earth's resources beyond its means. And the rest.'
The beautifully illustrated magazine is now into its 5th edition.  Art Director Mark Toner explains;
'….when we look into that driftwood fire, we see the images of our future mythology, and images…play a big part in the distinctive nature of Shoreline. Scotland is home to a wonderful community of science fiction artists, better known abroad than in their own country….the glossy comics, the blockbuster movies all have more than a few Scottish contributors in the visual department….we hope to astound you with illustrations, covers and a great poster shop. Expect the unexpected, as the Terrahawks used to say.'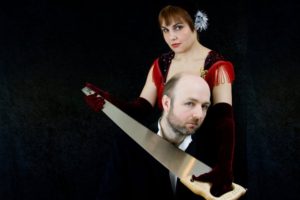 And Shoreline of Infinity doesn't stop there. Its regular mini-festival, Event Horizon, held on the first Monday of every month, brings you a free evening of sci-fi entertainment, with poetry, short stories, live music, art, raffle, comics, chat and more. In November it will include poetry from Ruth Aylett, prose from Stephen Goodall, and Seeing Stars – a drama with Debbie Cannon and Jonathan Whiteside. A 'musical collage of story, song and hardware tools' will be provided by Markee de Saw & Bert Finkle (pictured), and the evening will be held together – or encouraged to drift away – by Russell Jones, Shoreline of Infinity Assistant Editor.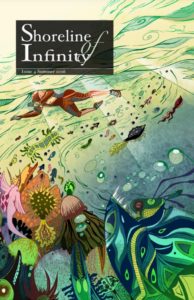 To find out more about Shoreline of Infinity, or to purchase copies of the current and previous editions, visit the website here. And if you're a budding SF writer, take a look at the Submissions page. If you can offer 'a good science fiction story. Something that gives reality a tweak on the nose. An idea that makes us stop and think.' this could be your golden opportunity….