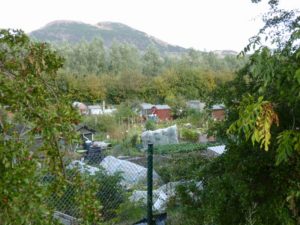 Harvest is always a telling time. It tells us what we've sown and how we, and the weather, have cared for it. This week a kind neighbour, who has an allotment, shared some of her produce with me –  potatoes and onions and two pots of jam she'd made from her apples and bramble berries.
She is one of 1,360 amateur gardeners in Edinburgh who rent an allotment from the Council for £100 a year. She is one of the lucky few, because there is a long waiting-list of people keen to till the soil and grow some of their own food. In Scotland's four main cities, there are over 4,000 people on the waiting list for allotments, some of whom have been waiting, spade in hand, for ten years.
These brave city diggers who keep our age-old connection with the land deserve our admiration.  Even more so do our farmers, who this year have not enjoyed a good harvest.  The first official estimates from the Scottish Government suggest that cereal production is down 11 per cent this year to 2.7m tonnes, most of it due to a fall in yield but 3 per cent due to a smaller area being sown.  Barley production is down 16 per cent, oilseed rape by 37 per cent. The only crop that's shown any increase is oats, up 36 per cent.
My thoughts naturally turn to harvest at this time of year, with its low sunlight and darkening trees. But as we come near the end of the party conference season – the SNP conference in Glasgow next weekend is the last – I'm left wondering what sort of harvest we have got in return for the hopeful political seeds we planted back in the spring.
Back then, we had a Prime Minister who'd not long won a general election and was cruising to victory in a referendum designed to silence the slightly batty wing of his own party.  We had a Labour Party with fresh and popular leaders north and south of the border. We had an SNP enjoying a surge in membership in the wake of the independence referendum. But now in the autumn, like the farmers, we have a disappointing harvest.  The SNP won the Scottish elections but lost its majority.  The Labour Party collapsed into third place in Scotland and endured a farcical coup attempt against its leader at Westminster. And we are now heading out of the European Union on a whim and a prayer.
This week we got another warning of how damaging this is going to be for the Scottish economy. The Fraser of Allander Institute suggests our national income could fall by as much as 5 per cent, meaning 80,000 people losing their jobs and personal income dropping by £2,000 a year. Nicola Sturgeon said, at first minister's question time at Holyrood, that this is why she will be fighting to keep Britain in the European single market, if not in the EU, and, if that fails, a second independence referendum is on the cards.
She went on to condemn the Conservative Party conference for steering Britain towards a "hard Brexit" and for pandering to racist elements in the party by suggesting a "naming and shaming" exercise against firms who employ a large number of foreign workers.
Not that Scotland is free of racism. We've just had a verdict in the curious case of the murder of an Indian waiter Surjit Singh Chhokar 17 years ago.  Three white men were present when he was stabbed to death in a street Wishaw in a row over a stolen £100 welfare cheque. From some strange reason, the three men were not tried together, so at separate trials they were able to blame each other and were acquitted. The prosecution service and the police later apologised for their handling of the case.
However since then the law on "double jeopardy" has been changed to allow a second trial if new evidence emerges. And this week one of the men, Ronnie Coulter, was finally convicted of the murder and it was clear from the evidence that a racial element was involved.
There was further evidence this week that Scotland and England are growing apart politically and geologically.  While the UK government was approving the first licence to begin fracking for shale gas in Lancashire, the Scottish government was coming out against underground coal gasification (UCG).  The two processes are not quite the same but after a technical report into UCG the Scottish energy minister Paul Wheelhouse  concluded that it "poses numerous and serious risks to the environment."  The Scottish government already has a ban on fracking while it awaits the results of a consultation which is expected to be overwhelmingly against.
The nation's heart has again gone out to Pauline Cafferkey, the Scottish nurse who contracted Ebola while helping to fight the  outbreak in Sierra Leone in 2014.  She was taken to hospital in Glasgow on Thursday after becoming unwell, though not directly from Ebola itself.  It's the latest in a series of hospitalisations since she came home from West Africa and comes just three  weeks after she was cleared of trying to hide a high temperature on her arrival at Heathrow airport in December 2014.  Public Health England were seeking to make her a scapegoat to hide their own "chaotic" arrangements for checking medical staff returning from Sierra Leone.  I can't help thinking the strain of that cruel and unnecessary hearing may have contributed to her latest illness.
How boxing could ever be classified as a "sport" has always beaten me.  I've only once pulled on a pair of boxing gloves and I got knocked silly in the first few seconds of the "bout".  Last Thursday, the boxing world got a rude awakening when 25 year old welterweight Mike Towell was knocked out in a fight in Glasgow and died the next day in hospital.  There have been vague suggestions that he had suffered headaches in training but, either way, the boxing authorities need to look again at the rules or consign the whole "sport" to the dustbin of history.
Happily, there was some evidence this week that we are not a nation of head-bangers.  No fewer than three Scots have won this year's Nobel Prize for Science. It's only a few years since Professor Peter Higgs won the prize for predicting the Higgs Boson phenomenon in partical physics.
Sir Fraser Stoddart has been awarded his Nobel Prize for the part he played in pioneering tiny machines which can operate inside a molecule.  Professor David Thouless and Professor Michael Kosterlitz won their prize for work on unusual states of matter, the science of topology, which may one day pave the way for so-called quantum computers.
It's perhaps useful to note that, like Professor Higgs, their breakthrough discoveries were made several decades ago, and that all of them have worked outside Scotland and in collaboration with other scientists around the world.
Their harvests have been long in coming and have had many cross-winds along the way.