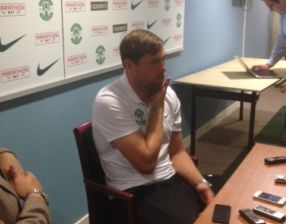 Hibs' striker Grant Holt believes that referee Stephen Finnie's decision to send off Marvin Bartley cost the team two points at Starks Park yesterday.
Despite playing 52 minutes with 10-men, Hibs dominated the game and had the better chances.
The 2000 plus Hibs fans who made the journey were furious with Finnie's performance who denied Hibs three penalty claims.
One in particular when holt was wrestled to the ground left everyone in the stadium baffled.
Despite only picking up one point, Hibs actually leapfrogged Queen of the South to move to the top of the table.
After the game Holt told Hibs TV: " It was a hard shift.  We thought one of their boys was getting sent off but unfortunately for us it was Marv (Marvin Bartley). We've seen it back and I don't think there was much in it.
"I think we never got the rub of the green. I had two penalty claims in the second half  but the linesman couldn't see any of them as there was too many bodies in the way but presumably that's his job to see things but we will take a point.
"There's not many teams that will come here and have so much time with 10 men and dominate. We came away with  point but we are disappointed. If we'd kept 11 on we would probably have won it and we should have done at the end anyway.
"It's always hard when you're playing with ten men. One minute you're defending and the next you're trying to get up the park.
"What the fans have seen today is a group that wants to win for each other, we work hard when it's backs up against the wall.
"To a man we worked our socks off and we are fortunate to have a bench that means we can bring on the quality we have and take us to the end of the game.
"We're disappointed to have been down to ten men, but we kept performing, kept working hard for each other and the lads are absolutely shattered because they worked hard and had a  good shift and, in the end, we should have won the game."