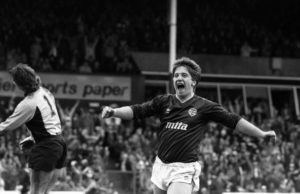 In the summer of 1983, Hearts fans were optimistic once more as their team challenged in the top tier of Scottish football for the first time in two years. After a desperate 1981/82 season, when they failed to get promotion and were knocked out of the Scottish Cup by Second Division Forfar Athletic, Hearts stumbled over the promotion finishing line by securing second place in the First Division at the end of season 1982/83 – and were at last back in the top flight.
Scottish football in general was in good shape in 1983. Aberdeen had emerged, under Alex Ferguson, as one of the leading sides in the country and, indeed, was one of the top sides in Europe after winning the European Cup Winners Cup in Gothenburg in the summer. So the task of making an impact on the Premier Division was all the harder for Hearts for, as well as the Old Firm and Aberdeen, there was Dundee United who had won their first ever League championship at the end of the 1982-83 season. However, there was a vibrant air in the west end of Edinburgh and a genuine optimism that Hearts had finally laid their woes to rest.
Alex MacDonald, appointed Hearts player-manager in 1982, may have been relatively inexperienced in managerial terms – although as a player, he had enjoyed more than a decade of success at Rangers – but he knew he needed more experienced players if Hearts were to avoid yet another relegation. It wasn't fanciful to suggest that, despite chairman Wallace Mercer's financial backing, the club's future would be in doubt if they were to be demoted again. Hearts did have talented youngsters such as Gary Mackay, Davie Bowman and John Robertson but MacDonald knew he needed players who had experience of the Premier Division – but he also knew he had little money to acquire them. However, MacDonald was an astute manager. He persuaded veteran striker Jimmy Bone, a hero of Partick Thistle's victorious League Cup winning team of 1971, to return from a spell in Hong Kong to sign up for the Tynecastle cause. Although now 34 years of age, Bone was the ideal man to nurture the talents of young strike partner John Robertson. MacDonald also secured the return to Tynecastle of the hugely popular Donald Park, who Hearts fans believed should never have been allowed to leave Gorgie in the first place. With former Scotland youth captain George Cowie recruited from West Ham United to fill in the full back position and players already at Tynecastle who had experience in the Premier Division, Hearts at least looked better prepared for the challenges that lay ahead. MacDonald was as honest as ever when he stated that Hearts aim was to avoid relegation – anything else would be considered a bonus. What would transpire as the season progressed would be a spectacular bonus.
The league season was to get off to a spectacular start for Alex MacDonald's men. An awkward trip to Perth on the opening day of the season to face promotion bedfellows St Johnstone was rewarded with a 1-0 win thanks to a goal from veteran forward Jimmy Bone. As the Saints were to face Aberdeen, Dundee United and Rangers immediately after the Maroons, it seemed likely the Muirton Park team would be left at the stalls in the race for survival. Hearts next game, on 3 September 1983, attracted their biggest home crowd for nearly seven years when just over 20,000 fans swarmed to Tynecastle – for the meeting with Hibs.
Inspired by a noisy support, Hearts began in positive fashion and youngsters Robertson and Bowman both forced Hibs and Scotland goalie Alan Rough into action. However, Hibs then took over. The ever-dangerous Irvine was unsettling the Maroons defence and it was no real surprise when Hibs opened the scoring after just 11 minutes. After a Murray shot had cannoned off Hearts keeper Henry Smith, Ralph Callachan rubbed salt into the wounds of those in maroon who used to idolise him, by lashing home the rebound to put Pat Stanton's side one goal ahead.
Hibs then dictated the game for the remainder of the first half, with young midfielder Rice controlling the centre of the park. But for some inept, finishing Hibs could – and should – have added to their lead. However, for all their dominance, half time arrived with the Hibees just the one goal in front and their fans on the Gorgie Road terracing must have wondered if one goal would be enough. They were to get their answer in dramatic fashion in the second half.
Alex MacDonald tried to pep up his Hearts players during the break but, as the second half got underway, it was clear that Hibs still had a stranglehold in midfield. Ten minutes into the second period, MacDonald brought himself on in place of youngster Gary Mackay and the transformation was almost immediate. Two minutes later, Hearts equalised with one of the best goals ever scored in an Edinburgh derby – and it proved to be the first of a derby record for another Tynecastle youngster by the name of John Robertson. Home goalkeeper Henry Smith launched the ball forward and with wind assistance, it landed at the feet of the 18-year-old striker. With a breath-taking piece of skill rarely seen by Hearts fans since the golden age of the 1950s, 'Robbo' controlled the ball with his right foot. With his back to goal, and a deftness of touch reminiscent of Scotland legend Kenny Dalglish, Robertson turned Hibs veteran Arthur Duncan, spotted goalkeeper Rough off his line and curled a magnificent left-foot shot past the startled Hibs custodian to level the scores at 1-1. It was one of those goals that remained etched on the memory, and the fans in Gorgie who saw it still talk about it to this day.
It set an already intriguing derby alight and the Hearts fans celebrated wildly. However, their celebrations didn't last long. Eight minutes later Hibs, stung by the turn of events, regained the lead. Home defender Roddy MacDonald failed to clear a Thomson header and Irvine was on hand to steer the ball past Henry Smith. 2-1 to Hibs and it looked as if the points were heading for Easter Road. Pat Stanton's men had seemingly weathered the storm after losing the equaliser but the never-say-die attitude which Tynecastle boss Alex MacDonald had installed in his troops came to the fore in dramatic fashion.
With 20 minutes left, Hibs full back Brazil, attempting to take the sting out of the game, was short with a pass-back to keeper Rough. John Robertson was on hand again to pounce and sweep the ball home to level the scores at 2-2. Tynecastle was now in frenzy as the Hearts support acclaimed the birth of a star who had been banging in goals in the First Division the season before, but was now proving himself in a big way in the top league. Play now swung from end-to-end and the match was turning into one of the best derbies seen in years. With just 13 minutes to go, Robertson showed that he could turn goal maker as well as goal taker when he delivered a glorious 25-yard cross field pass, which carved open the Hibs defence and reached Donald Park. The wee man, who revelled in derby games, quickly despatched the ball into the penalty box where veteran striker Jimmy Bone headed past Rough to put Hearts in the lead for the first time at 3-2.
The home support erupted and while Hibs threw everything into attempting to get the equaliser, Hearts held on for a famous victory. The joyous scenes at the end of the game told their own story as the maroon-shirted players hugged each other and punched the air with delight. It was Hearts' first victory over their rivals for almost six years, their first derby win at Tynecastle for almost a decade and, remarkably, only their third league win at Tynecastle over Hibs in two decades. It had been one of the best games between the two sides since the halcyon days of the 1950s and was the clearest signal yet that Hearts were heading in the right direction.
It was two wins out of two for Hearts and, buoyed by this success, the Maroons, to the astonishment of the country who weren't used to such performances from a promoted side, went on to win their next three league games – one of which was a highly impressive win over Rangers at Tynecastle. Incredibly, after five games, Hearts   shared   top   spot   in   the   Premier Division with champions Dundee United and Celtic, with a 100% record and Tynecastle fans pinched themselves to make sure it wasn't a dream. Their run ended when Aberdeen won 2-0 in Gorgie, but Alex MacDonald's men kept on producing highly creditable results that included wins over St Johnstone, St Mirren and a hard fought 1-1 draw at Celtic Park where Henry Smith saved a penalty kick. Hearts, unusually for a side that had gained promotion, were proving hard to beat and as 1984 began, delighted Jambos were beginning to think more about the prospect of a UEFA Cup place rather than the expected fight against relegation. The Maroons did stutter heavily at Dens Park in January and in the return fixture at Celtic Park a few weeks later, but with youngsters Bowman, Mackay and Robertson maintaining form, Hearts clinched fifth place in the Premier Division at the end of a hugely satisfying season – and did indeed clinch a place in the following season's UEFA Cup much to the delight of Jambos everywhere.
Hearts supporters eagerly awaited the following season with the added anticipation of a plum draw in the UEFA Cup – French cracks Paris St Germain. Season 1983-84 had been an unqualified success and had seen the birth of a new star at Tynecastle. A star who, at just 18 years, had already taken the first steps to acquire the name 'John Robertson, Hammer of the Hibees!'