North Berwick dominate Queensferry's Rowing Regatta

Ten traditional skiffs from around Scotland launched in the Firth of Forth on Saturday [10 Sept] as the North and South Queensferry rowing clubs held their annual regatta at Port Edgar. Crews travelled from as far afield as Ullapool to attend, while others brought their skiffs from Edinburgh, Fife, the Firth of Tay and East Lothian to join the host clubs.
The rectangular course was laid between the historic road and rail bridges and Queensferry Harbour, and races were keenly watched by visitors based at the marina.
North Berwick dominated the day's racing, with most of their competition coming from Fife. The East Lothian club's crews took home four gold medals, in the Women's 60+, Men's 50+, Men's Open and Mixed Novice categories, along with a silver medal, while Anstruther won the Men's 50+ as well as two silvers and two bronzes. Broughty Ferry took the honours in the Mixed Open and the Women's Open. St Andrews won a silver and a bronze, as did Crail, while Tay club Newburgh took home silver. The host clubs each placed once, North Queensferry winning silver and Queensferry bronze. Loch Broom's long journey south was rewarded with a bronze medal in the Men's 50+.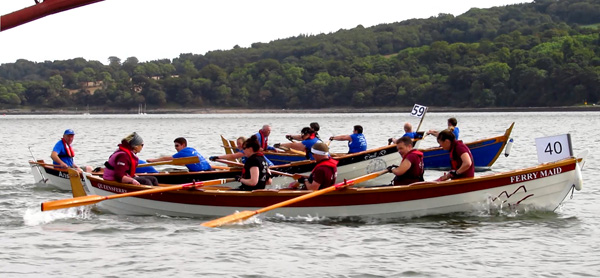 Special mention goes to Kinghorn, who were competing in their first ever regatta, having launched their skiff only this summer. They came a very respectable fifth in the Mixed Novice category.
The final race of the day was a special "pix and mix" event held in memory of Andy Jarvis, a stalwart of Queensferry Rowing Club and a well-known member of the wider skiff community.  Andy offered his services as an oarsman to any crew that would have him, so a race where all crews were made up of names picked out of a single hat was a fitting tribute. Despite rowers being in unfamiliar boats, it was still a fierce tussle for places, and the Anstruther skiff triumphed over Crail and Queensferry.
Report courtesy of QRC
Images courtesy of Len Saunders QRC