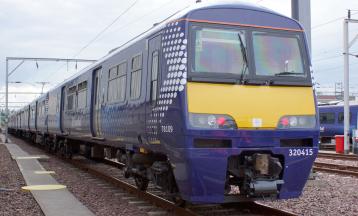 If any of you are going to take part in the Great Scottish Run in Glasgow on Sunday 2 October then you and your supporters are reminded to plan your journey to the event as some rail services are affected by engineering works.
Replacement buses are in place for all services on the Edinburgh-Glasgow via Falkirk Highline up to 11am on Sunday, so anyone planning to travel into Glasgow on that line earlier than 11am will arrive by bus.
For customers travelling from Inverness, Aberdeen, Dundee or Alloa, into Glasgow before 11am on Sunday 2 October, part of their journey will be completed by bus, so extra time should be allowed.
Normal Glasgow Queen Street rail timetable operates between 11am and 8.30pm on Sunday 2 October, then services suspended to allow resumption of electrification works. Customers planning to travel after 8.30pm will complete some or all of their journey by replacement bus service.
These changes to services are part of the ScotRail Alliance's electrification programme to transform Scotland's railway. The work is underway to allow electric trains to run between Edinburgh and Glasgow by summer 2017.
David Dickson, ScotRail Alliance infrastructure director said: "Central belt electrification will allow us to run faster, longer, greener trains and cut journey times while increasing the number of seats available. The work we are delivering represents a huge investment in Scotland's railway that will help transform travel on our network.
"We understand the inconvenience this work will cause our customers and every effort has been made to minimise disruption as much as we possibly can. We are urging people to check their journey now and certainly before they set off. All of the information that people will need to plan their journey during these improvement works is already available on the ScotRail app and website. We'll also have extra staff on hand at key stations to offer extra assistance."
A summary of the changes can be found on the ScotRail website: http://www.scotrail.co.uk/about-scotrail/news/keeping-you-moving . Timetable details are available by using the ScotRail app or any 'live' journey planner.