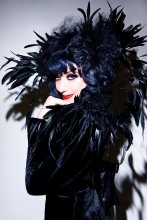 Barry Humphries gathered himself on stage and got lost in a monologue about bookshops, one that was a little disconcerting, about their demise and his love for them. But this was the beginning of a show about escapism that surprisingly worked, not without it bordering on the surreal.
Known for his character Dame Edna Everage, Humphries performed with fellow Australian Meow Meow and the Australian Chamber Orchestra the so-called degenerate music of early 20th Century Berlin. When she posed for attention in corsets, illustrious headwear and stockings Meow Meow certainly excreted a few gasps and laughs from the Usher Hall audience.
A cabaret of gaiety, seductive prowess and intellectual reference, there is much to satisfy the crowd. Maintaining a typical Humphries' tongue-in-cheek manner, we were also educated about the composers that Hitler was non-too-plussed with.
As the ACO played flawlessly and kept their professionalism both Australians, Humphries and Meow Meow shocked the audience with their overlapping mix of nihilism and erudition. Meow Meow performed Erwin Schulhoff's When Harry Met Sally-style faked female orgasm, Sonata Erotica, in a way that commentated on the music of the era as well as scowling her way through Weill's Pirate Jenny; the girl was clearly having fun.
The jazz inflected music was precise and visceral as well as remaining loyal to the spirit and style of the era. This was a special juxtaposition of references and characters that, as aforementioned, surprisingly worked.