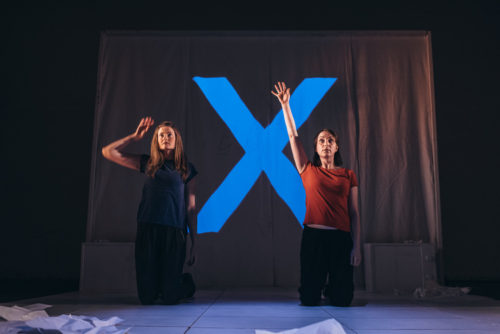 As the Fringe draws gradually to its close, it seems apt to reflect on the highs and lows of this unique month. Those of us lucky enough to live in Edinburgh will perhaps be looking forward to being able to walk freely down the Mile again; looking forward to coming home without a mountain of waste paper in our bags. Perhaps we're just looking forward to being able to get a table in any restaurant this side of the ring road. What I am sure of, however, is that we would not have it any other way. The high moments of the Fringe, such as People of the Eye, remind me of this. An extraordinary and visceral piece such as this from The Deaf and Hearing Ensemble is the kind that leaves a mark.
It tells the story of two sisters, the elder deaf and the younger hearing, as they grow together and face the challenges presented. Performed with equal skill by Emily Howlett (who devised the work) and Erin Siobhan Hutching (who wrote it) the play is completely accessible to members of the D/deaf and hearing audiences, either through BSL or subtitles. Each of the actors play a number of roles, representing themselves, their parents, teachers, speech therapists and doctors.
A tightly choreographed work – thanks to Jennifer Fletcher – it's as shocking as it is heart-warming. We identify with Emily's parents' concerns about her lack of responsiveness, their attempts to diagnose her themselves, and their frustration when a doctor rejects their worries. (The same doctor finally admits to having mistaken Emily's responses to hearing tests as 'normal' when in fact she is profoundly deaf.) Emily's parents' decision to move Emily to a school for the deaf after she fails to hear a fire alarm is a profound and heartbreaking moment. People of the Eye is not, however, without its humorous moments; 'The 'Sh*t Kids Say' sequence is quite brilliant – "When people are yawning do you think they're screaming?"
The technical aspects of the work are impeccable, from the sound design to the videography and the set. There is an unnerving sense of silence throughout this piece, interspersed with moments of wild static and almost unbearable frequencies. There are times in the play where hearing members of the audience are deliberately left behind or led astray – not to mock or belittle them, but to educate them. People of the Eye is by turns profound, disturbing, hilarious, and heart-warming. It's not easy going, but there is something fulfilling about sidestepping the usual Fringe fare and expanding one's understanding. For that, I can only thank The Deaf and Hearing Ensemble and commend their work.
New Northern Stage @ Summerhall
Runs until 27th August
1pm
Suitable for 12+
£11 (£9 conc.)
This piece is accessible to D/deaf and hearing audiences through the use of British Sign Language, spoken English and creative captioning.