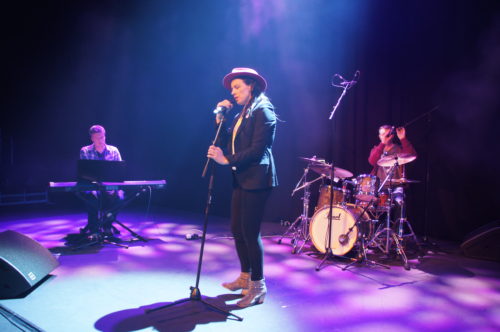 Under the Big Top of Underbelly's Circus Lafayette tent in The Meadows, French-Irish songstress Camille O'Sullivan strokes a series of her unsuspecting audience members on the back of their head as she meanders towards a stage that hosts a Gingerbread House, a trio of sinister looking papier-mâché heads and her music men for the evening.
Bedecked in a figure-hugging black outfit and glittery cape, it's just one of the creative costume combos O'Sullivan adorns during a show that brought out the very best of her diverse set.
O'Sullivan kicked off proceedings whilst perched on the somewhat precarious looking trapeze, dangling above a section of her nervous looking crowd. If that wasn't dramatic enough, her personal interpretation of hits from the likes of Nick Cave, Brel and Radiohead metaphorically raised the roof courtesy of her gritty, booming voice.
Her tribute to David Bowie earned a standing ovation, with calls for an encore to boot.
That she did; treating the audience with a trio of tunes, including the spectacular rendition of Prince's Purple Rain that sends the hairs standing up on the back of your neck.
Camille O'Sullivan is on at Underbelly Circus in The Meadows until 22nd August