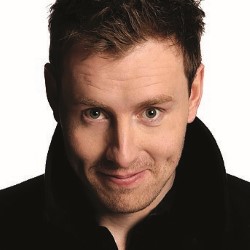 Down in the basement of the Assembly Studios is Andrew Ryan.  The Irish comedian returns to Edinburgh to play his first Festival outside the EU before teasing the home grown football fans in the audience about his experience in the summer at the EUROS following his nation's fortunes.
Ryan's hour largely centres on his decision since his last visit to the Scottish capital to take greater care of himself.  A plethora of mouth ulcers lead to him having to lay off the Guinness and undertake the joys of eating foodstuff such as Gluten Free pizza – which, he notes, is akin to 1950s wallpaper with a tomato base using a coeliac's blood.
Making decisions throughout life seems to be a challenge for the Cork man, none more so than looking to use the powers of his wit to diffuse a situation in a Manchester hostelry whilst there for a family wedding.
Ryan's cynicism of the 'self-help' market makes for a humorous part of a show that pokes fun at the likes of Paul McKenna whilst taking a pop at those who enter the 'bullshit positivity' of social media oversharing.
It's a show that at times goes off-piste with audience fuelled tangents from the likeable Ryan who offers an hour of enjoyable, random fun.
Andrew Ryan is at Assembly Studio 4