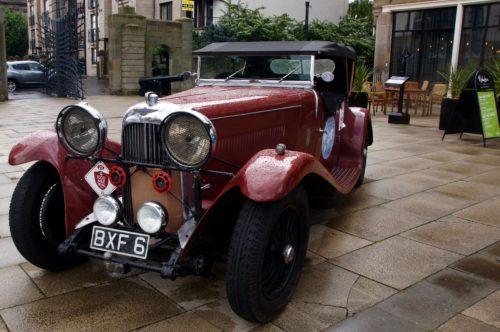 The vintage cars which will take part in the 1000 mile trial tomorrow are assembled at the Malmaison Edinburgh tonight, although some of them will be alongside the Royal Yacht Britannia while the drivers have dinner there.
Driving a rare Alvis, Peter Foubister Motoring Secretary at the RAC told us that the 1930 car, one of only 12 made, is owned by the RAC and the Chairman and other board members will drive the car this week.
He explained the reason for the rally : "Right at the beginning of motoring in 1900 the club set out to travel 100 miles around the country to show future generations that the future was the car and not the horse. It was quite an uphill task. People didn't believe it and they really wanted to stick with the horses.
"A few years ago the RAC and HERO decided they wanted to recreate this tremendous event around the country celebrating motoring and that is what we have done with these pre World War II cars.
"The event is a regularity rally and so it is all about the team and car performing consistently and gently so although they will be using public roads the speeds will be relatively low."
The cars travel to East Fortune tomorrow and then over the hills to Hexham and Slaley Hall on Tuesday night and eventually to Woodcote Park."
Two sisters are taking part in the trial. The Whyte Sisters are Seren and Elise who live in South Wales and London respectively. They say that they just love driving.
Seren told The Edinburgh Reporter: "It's very exciting to be in a really old car. This is a 1930 Austin 7 and she drives completely differently to anything else I have ever driven. First gear is towards you but down and second away from you and up. We have a third gear as well along with reverse.
Elise continued : "I have to make sure we go the right way with maps and TULIP diagrams and I have to navigate us all the way from Edinburgh all the way to London over the five days and if I go wrong then it is quite a lot of pressure because we then have to turn this car around and it doesn't have the best turning circle. If you are on a small lane it can take you some time and also our engine is so small that trying to get back on time is a lot of effort. So I just make sure we go the right way!"
Seren continued : "We are the real underdogs because this car has a 750 CC engine which is the smallest engine in the event. We don't have room for luggage though so all that we have are the essentials."
And if the worst happens and they can't make it up a hill? Well Elise tells us that she will just get out and run up the hill! Or of course they can reverse up the hill as reverse gear is 'better than first'.
The car they are driving is owned by Bicester Heritage which is an organisation all about old cars and regenerating interest. They have lent the car to the Whyte sisters as they are particularly keen on promoting young people and young women in particular in motor sport.
Seren concluded: "We were classic car driving before but someone told us that we absolutely had to try driving a vintage car."
Otherwise the girls perform as actors and singers. They will be on the Brittany Ferry ship next week playing the Ugly Sisters!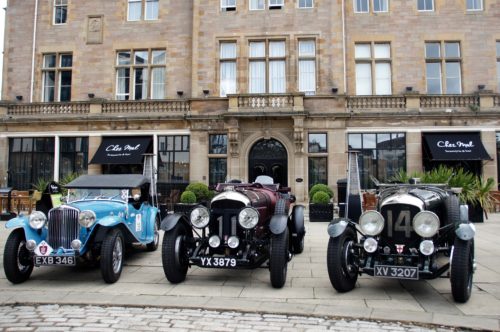 Graham and Marina Goodwin from Leeds have a 1925 Bentley Super Sport which they are taking to South America in the autumn on a 10,000 trip so this is just a warm up event for them. There were only 18 made and this one is number 4.
Originally it was sold to Mr Pyman, a Whitby shipbuilder,  and the registration number reflects that PY 3733 .
Graham told us how they came to own the car : "When we realised the car was from Yorkshire originally we decided that we had to have it and bring it back to Yorkshire. We had a little bit of work done to it as it wasn't in the best of health and this is our first rally in it.
"They are tough machines. This car was made for racing when there was no tarmac on the roads. There were dirt tracks covered in gravel. We decided to take up rallying and in our view the best British car is a Bentley, so we had to have this one. This is our favourite car."
Roy Callow lives in Kent just south of London and he drives a beautiful Lagonda M35R which is a bit of a mystery.
He said: "This car is rare because it was one of only 80 engines made, and it was first registered in Scotland in 1935 by a person who we don't know. From then all records were lost until it was found derelict in 2008. It was a saloon car body originally, and it was then restored by a gentleman in Holland who took the saloon car body off, completely restored everything and then put this original Lagonda style body back on. This is a T9 Touring model.
"This is a 3.5 litres engine which was built for touring rather than performance. It is a big heavy engine but the car is very comfortable to drive.
The car registration is from Edinburgh WS 6059 and if anyone has any information about the car from the date of its first registration until 2008 then it would be of great interest to Mr Callow.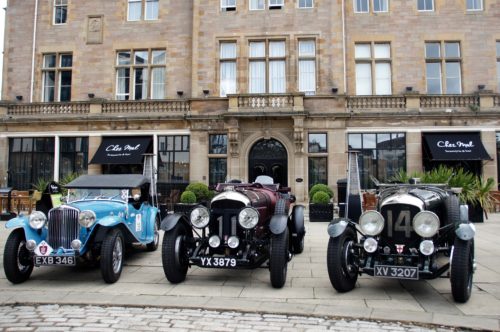 Patrick Burke is MD of HERO events who are organising the event for the RAC. He said: "This is a recreation of an event which took place for the first time in 1900 at a time when no-one would believe that anything could move without a horse or locomotive pulling it. It was extremely well-received and it eventually was the start of what the motoring industry became. Motoring became ever more important and horses took second place.
"We won the rally of the year award with this event in 2014 and 2015 and so we are doing the event for the third time this year. I am travelling in a BMW 328 Fraser Nash. It is a great car, a very fast car, and I am driving with my father-in-law!"
The Edinburgh Reporter News 1000 Mile Trial from Phyllis Stephen on Vimeo.
Francis Galashan was born in Falkirk but was brought up in Edinburgh, running his business Applied Sweepers here until he moved south. His 1938 Alvis was a works demonstrator one of only 12 made and this car was quite fast in its day. It went round Brooklands ar a lap speed of 115 mph which in 1938 was quite good going!
"It has been in rallies all over the world  in South America and across Europe. It has a 4.3 litre straight 6 engine. I have had the car for about seven or eight years and although I have done some work on it, it is mostly original."
Frances and his co-driver Tony Brooks then took me out for a drive around Edinburgh in the 1938 Alvis to do the measured mile out near Millerhill where they had to drive the route three times to set their trip meter ahead of the event starting on Tuesday morning. It was a bit blowy in the back, but the car behaved beautifully and it certainly seemed quite robust.
They are competing in the Category B Class 5 with cars over 4000cc in one of the original Vanden Plas short-chassis cars built. Francis has competed with the car in the Flying Scotsman Rally in 2012 and the Bo'ness Revival Hillclimb and  the Cape Horn Rally through the Andes in the same year followed by the 2015 Alpine Trial and the 2015 1000 mile trial.