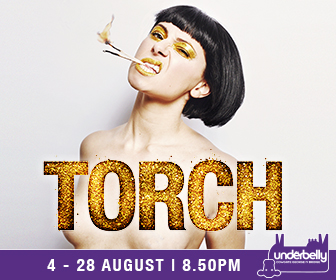 We're all told we're looking for something, that some part of ourselves is missing, that somewhere we fall short – we're not political enough, not skinny enough, not sexy enough, not brave enough.
The search is over. Stop looking. Part gig, part refracted and reflecting stories, Torch explores what it means to be a woman. From Flipping the Bird, in collaboration with Channel 4 Playwright Phoebe Eclair-Powell (Wink) and actor Jess Mabel Jones (Backstage in Biscuitland), comes a show that looks at freedom and celebrates choice in the world today.
Torch does not set out to solve feminism but provoke it, laugh at and with it, and detonate it.
LISTING INFORMATION
VENUE: Underbelly Cowgate (Venue 61)
DATES: Aug 4-28 (not 16)
TIME: 20:50 (1 hour)
TICKETS: £11/£10; (Preview – £6)
Get your tickets here.