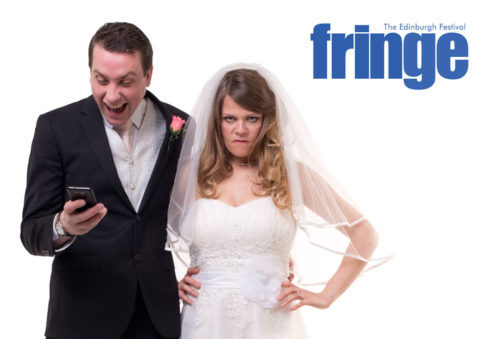 Will and Kate's dream was for a small, intimate wedding – but Kate's Mum, Lynne, had other plans.
In a bid for peace, a compromise was reached, and the happy couple tied the knot in a registry office so that Lynne's lavish reception could go ahead without fuss… though 'without fuss' isn't quite how it turns out!
Now you're invited to be a guest at The Wedding Reception. It's a 2½-hour comedy that's immersive, highly improvised, and as interactive as you want it to be. And, in true wedding reception style, it even includes a sit-down dinner – with cake! So join the party. It's a roller-coaster journey full of fun, frolics… and more than a few surprises.
The Wedding Reception is a new immersive comedy from Interactive Theatre International. It features four actors in multiple roles: Rebecca Norris, Dave Tremaine, Katie Cooper and Jack Baldwin.
This new immersive comedy returns to Edinburgh Fringe in a new Fringe venue – the fabulous 4* George Hotel. Of course, The George is no stranger to wedding receptions… but it's never seen anything like this!
LISTING INFORMATION
VENUE: The George Hotel (Venue 119)
DATES: Aug 4-7, 9-17, 19-22, 24-28
TIME: 18:00 (2 hours 30 mins): daily excl. 8, 18 and 23 Aug.
13:00 (2 hours 30 mins): Saturdays & Sundays.
TICKETS: All tickets include a two-course meal plus cake (special diets catered):
– £39 lunch performances Saturdays & Sundays.
– £39 dinner performances Mondays-Thursdays.
– £43 dinner performances Fridays & Saturdays.
Get your tickets here.