The Point is written, performed and produced by Glasgow artists; it is a daring and challenging project driven by female artists: Every city has a dark little secret; a shifty place in the shadows where sex, drugs, pimps and prossys can't be missed.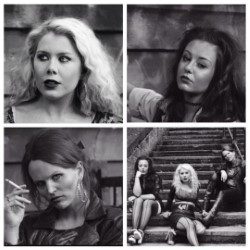 The Point follows three of the local sex workers, Cindy, Chargo and Amber, through their past, present, future, hopes and fears that come with being a part of the oldest profession on Earth. This story celebrates these women's toughness in a grim world while unflinchingly showing the realities of such a profession.
The play spans over three years between 1989 and 1991, where we look into the grim world of Cindy, Chargo and Amber. All three of the characters of are on the same path but at different stages. Cindy has been there the longest and truly wore down by life, while Amber has been working The Point for few years and she's happy with the life. And then there's Chargo, who is very young and naive to the consequences of working in the sex industry.
LISTING INFORMATION
VENUE: the Space @ Surgeon's Hall (Venue 53)
DATES: Aug 15-20
TIME: 18:50 (1 hour 5 mins)
TICKETS: £10/£8
Get your tickets here.