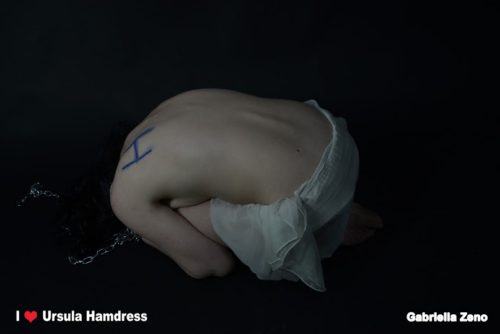 I love Ursula Hamdress is a performance on feminine identity, inspired by the lecture of The Sexual Politics of Meat, by Carol Adams. Ursula Hamdress was a sow, dressed up like a Playmate that appeared on Playboar, "the Playboy magazine of the pig farmers" in 1981.
The work examines the meaning of being female, beyond the aspect of being human and being animal, through an exploration that compares the condition of women to the farmed animals. According to this analysis, women and animals in contemporary society are considered merely a consumable body.
At the beginning of her monologue, Ursula Hamdress seems to be an ordinary ditsy girl that tries to get attention from the boys; at a certain point her story is connected with the story of other females, and her life overlaps with the life of a farmed cow, of a farmed sow, until their identities correspond to each other, just because of their female nature. In fact, they have mammary glands; they have a uterus, capable of giving life; and they have a body violated and exploited for its beauty and fertility – a consumable body.
The work is not yet published and wants to be a tribute to all females and the consumable body, against the oppression and exploitation of women and animals made by patriarchal system.
LISTING INFORMATION
VENUE: Spotlites (Venue 278)
DATES: Aug 21-28
TIME: 13:00 (40 mins)
TICKETS: £10/£8
Get your tickets here.