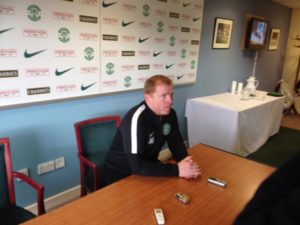 Hibs' Head Coach Neil Lennon was pleased with the performance of his young players in yesterday's 1-0 victory over a full strength Birmingham City side at Easter Road.
Lennon rested ten players who started against Brondby in midweek and it is testament to his squad that the players who were brought in were able to perform to the required standard.
In particular, left back Callum Crane and midfielder Scott Martin impressed the boss and Crane deservedly won the man of the match award.
The Hibs boss also made mention of Aaron Dunsmore and Martin Boyle as well as Alex Harris, Sam Stanton and Jordon Forster who all returned to Easter Road after loan spells last season.
Although Lennon hopes to bring further payers in this week, he insisted that he would be loathe to let players leave after what he witnessed.
Speaking immediately after the game, Lennon said: "The football was good and the young players Callum Crane and Scott Martin were good. They all contributed particularly in the second half and the likes of Alex Harris, Sam Stanton and Martin Boyle all played well. I liked what I saw and of course Jordon (Forster) although he is a senior player but I liked his performance as well today and of course the two kids (Callum Crane and Aaron Dunsmore) gave me some optimism that they can play here this season.
"To go out there and stake their claim for a place,  that was the challenge we threw down to them at the start of the game and none of them disappointed.
I didn't want to play any of the boys who played 120 minutes in Sweden but we needed Liam (Fontaine) to play because we were short of bodies.
"It's pre-season and difficult to gauge where Birmingham are compared to us but, judging my own team, there were a lot of really good things to come out of that game.
"I'm really pleased. I got everything I wanted from it. The condition of the players looks really good and the football was great. It was a very high standard.
"We are still actively looking at the goalkeeping position and hopefully it will be a busy week in terms of getting people in,  but I'll be loathe to take players out after what I saw against Birmingham."