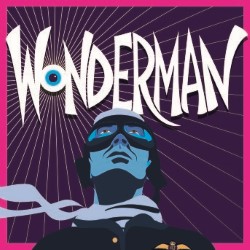 The Edinburgh Reporter sneaked in between busy rehearsals to have a quick chat with the delightfully named Gagglebabble team, Hannah McPake and Lucy Rivers, as they finalise tweaks and finesse the nips and tucks for their Fringe debut show Wonderman.
Its 'unique gig-theatre' take on five of Roald Dahl's short stories for adults, promises a pot-pureé macabre mash-up of music and theatre. Focusing on a fantasia of events set loose from Dahl's real-life – and near death WW2 Spitfire crash – in the Middle East, his hallucinations run wild.
It seems likely  audiences will have to run even faster to keep up – is that actually possible?
TER: How much of the show is based on Dahl's sequel autobiography Going Solo?
H&L: Only a small element draws on Going Solo. It's from the moment he has the air-crash in the desert as he described as '…a monumental bang on the head.' He wakes up in hospital in Alexandria. There are small elements of that episode but our points of reference are drawn from the plots of his early short stories, A Piece Of Cake and Beware The Dog. He was recovering from a broken back and a missing nose. (Fans may recall his being catapulted through his sister's car windscreen in 'Boy' when a similar injury occurred). In his hospital bed he falls in and out of hallucinatory episodes that inform the plots of five of his short stories.
TER: What drew you to the title Wonderman, it works on several levels, doesn't it?
H&L: Hmm! Good question. There's a description in Dahl as being a 'wizard, a Wonderman' we took as inspiration from Donald Sturrock's superb authorised biography 'Storyteller: The Life Of Roald Dahl' (Simon & Schuster, 2010). It was a word that seemed appropriately 'Dahlesque. We wanted the image of a superhero, the suggestion of flight, flying is a theme that runs through the show. There are inferences to be taken from that, flights of fancy, flights of imagination and creativity.
TER: The Dahl estate has an admirable reputation for fiercely protecting the integrity of his work, how did you liaise with them?
H&L: They couldn't have been more helpful and supportive all through the initial pitch to the show's final form. Dahl's grandson became personally involved during the two year period of pre-production. We rather feel Wonderman has been given a quality stamp of approval!
Just picture the wily wordsmith in his fireside armchair chuckling as you prepare to be immersed in tales of the unexpected. This being his centenary anniversary year it has to be a hot ticket must. No wonder you will want to wander along to the Potterrow Underbelly for a wonderful time.
https://tickets.edfringe.com/whats-on/wonderman